Finland's airports operator Finavia has reacted to the substantial increase in Chinese tourists visiting Finland by providing language services for this group of passengers.
"For example there are very few people working in the boutiques who speak Mandarin. That's why here at the airport there may sometimes be a cultural and language barrier. If a sales clerk notices that the customer doesn't speak even English, then it's better to try and find an employee who speaks the language. If the salesperson continues to use English, a Chinese customer may take offense," said Zhouyan Li, a Chinese guide who works at the Helsinki Airport.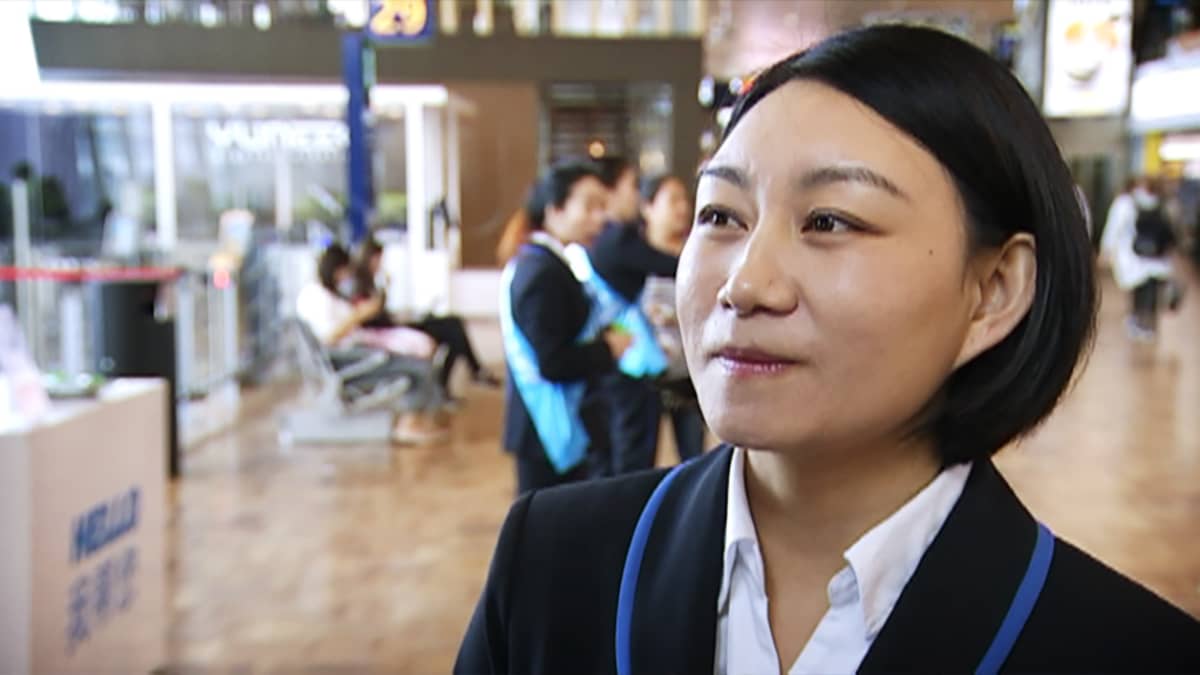 According to Li, cordiality and good manners are the most important elements required for dealing with Chinese customers. For example, a Chinese visitor may be annoyed by a salesperson who uses negatives while doing business.
"In China no one wants to lose face in front of others so if you want to serve your customer better, you should avoid using the word 'No'. It would be better to say, 'Maybe I can help you this way'," Li explained.
Salespeople need to be on their toes
Chinese tourists are known to be keen on shopping. Sometimes they many want a discount on a particular item. This is another situation in which saying 'No' won't cut it, Li noted.
"It's better to express yourself indirectly. For example you could say that the product has a standard price or that it is the store practice to sell the product at a certain price," she expanded.
Like many other tourists, Chinese are attracted to international brands, but they are also interested in locally-produced items. In such situations a language barrier can easily lead to misunderstandings – as in the case of one Chinese man who wanted to purchase something local for a souvenir.
"He asked the guide what kind of healthy local products he could buy. The guide recommended blueberries. Because he trusted the guide and wanted to take home valuable souvenirs, he decided to buy 30 packets of blueberries," Li recalled.
Chinese visitors passing through the country's main airport have been full of praise for the language services. Tourist Yu Ang Shen said he wanted to do some shopping at the terminal but was a bit shy because of her poor English language skills.
"Then I saw the Mandarin service points and the signs. The service here is very good. People here are friendly and warm. It's great that we can be served anywhere in the airport in Mandarin," Shen remarked.
Signage and digital services
With growing numbers of Chinese travelers entering the country, airport officials have begun to take concrete action to enhance available services. Nowadays the airport offers two service points dedicated to Chinese visitors.
"Recently we introduced Mandarin language guides and planned locations for them. We have also invested in digital services. When a Chinese passenger logs into the airport's Wi-Fi network, they will find a customised portal with instructions that will make it easier to navigate the airport," said Helsinki Airport deputy director Heikki Koski.
Roughly 300,000 Chinese passengers pass through the airport every year. Although officials would not disclose precise figures, they said that the Chinese are also a financially important passenger group.
"The Chinese segment is one of the strongest growing passenger segments at the airport this year. The growth is coming from transfer traffic from Asia and the Chinese are one of the most significant groups in this regard so of course we must invest in them," Koski added.
In just June and July, airport staff provided at least 20,000 Chinese passengers with personal service in their own language.