The Vantaa Prison recently became the first Finnish penitentiary to officially invite – and pay – a graffiti artist to decorate its bare grey walls. A different prison was originally in line for a painted revamp, but declined the offer outright.
"When I heard that something like this was up for grabs, I said give it to us straightaway," Vantaa Prison director Tuomo Junkkari says.
Spruced up
The historic spray-on artwork is also a tip of the cap to a genre that has seen many victories and defeats on its road to being seen as a legitimate form.
"We have about two kilmetres' worth of grey concrete here, so lack of space is not an issue," Junkkari says.
The graffiti is a gift to both the workers and inmates of the prison.
"First we were surprised and uncertain, but the colours are nice," remand prisoner Jarkko Haimi says.
"I'm still a little concerned that people in the civilians world will think, Oh, they're painting the prison walls – they'll probably have a bouncy castle next," Haimi continues.
Fellow inmate Elmo Ankio says he enjoys the new look.
"I've been walking around this yard for seven months looking at bare grey walls, and I have to say I'd rather look at something colourful. It's refreshing," he says.
Outsider artist
The graffiti artist, who goes by the pseudonym EGS, is known for never letting his face be photographed or filmed. It's a guideline he's followed for more than 25 years.
"It's a strange feeling to paint inside locked walls, as it were," EGS says. "Mainly I've been thinking about how I'm only a visitor here, whereas the people in this yard have to go back inside."
EGS's three-part work is situated in three different parts of the facility. The largest painting is on the grey concrete wall of the recreation yard. The two others are in the visitors' hallway and by the main entrance to the prison.
"I wanted to leave as much of this featureless concrete untouched, because it's a really great surface for graffiti," EGS says.
History in art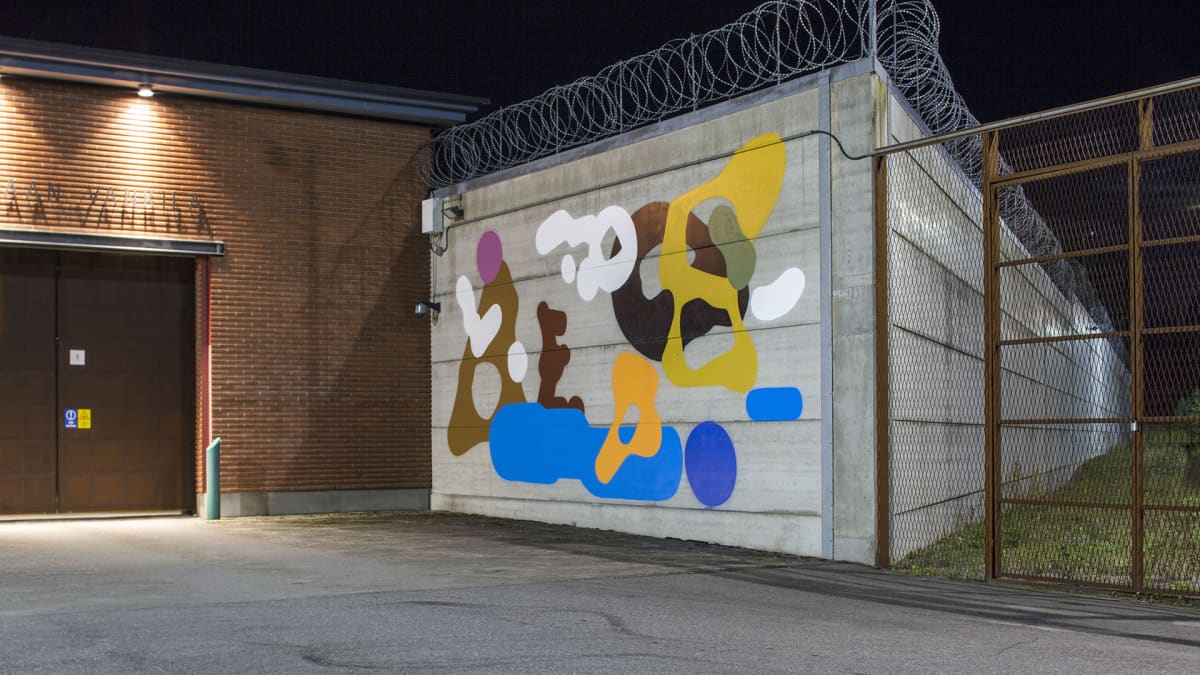 EGS says he is interested in history and in different cultures, and has seen many strange places during his long career. His work can be spotted on five different continents, in dozens of countries.
The shapes used in the three large pieces in Vantaa Prison are based on the three letters of the artist's nom de plume. The artwork also has archipelago-like features, which is an homage to the location of another prison, the time-honoured Katajanokka penitentiary in Helsinki.