A new poll has assessed the approval ratings of a sample of Finland's education providers on the new core curriculum for basic education.
Rolled out in August 2016, the new core curriculum features several traditional subjects taught in a normal classroom environment. But it also includes changes that gave rise to a widespread misunderstanding that the separate school subjects were being abandoned altogether. The National Board of Education clarifies that the focus in this new component of basic studies is on what they call transversal competences, or work across school subjects. During these collaborative sessions, pupils can work with several teachers simultaneously on so-called phenomenon-based project studies. This new component is just one part of the whole.
Yle news reporters joined with Finland's teacher union OAJ in late November/early December to carry out a poll of the country's teachers and rectors, and 209 teachers and 184 rectors participated.
Results show that the majority of respondents are unsure if the new core curriculum improves learning results among Finnish children.
"The new core curriculum works for gifted students," answered one teacher from Kymenlaakso.
"Weaker students are falling behind more easily," said another from Northern Ostrobothnia.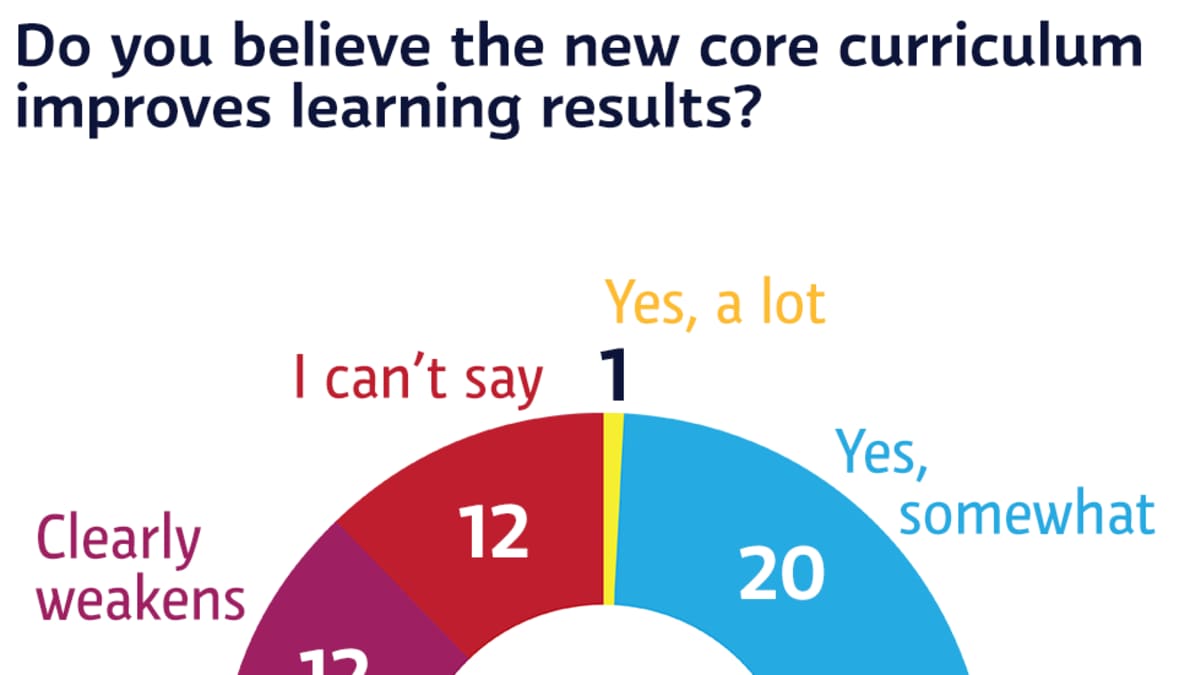 "Learning outcomes aren't necessarily getting any better, but I believe that school satisfaction and motivation levels have improved," commented a rector from Central Häme.
Only one-fifth of the responding teachers were of the opinion that the new curriculum has resulted in better learning, while less than half of the rectors felt the same. One teacher in three felt that the new system weakened learning outcomes, either somewhat or clearly.
Tests reveal falling aptitude
New PISA results released early this month reveal that Finnish youth are still performing well in school. The annual OECD comparison of 15 year olds' math and reading skills did show worrying gender discrepancies and regional differences, however. A similar TIMSS study of fourth grade aptitudes showed a weakening command of math and natural sciences.
Education Minister Sanni Grahn-Laasonen says improving learning outcomes is definitely one of the curriculum reform's most important goals.
"One of the objectives is without a doubt that we could improve learning results and stop the downward spiral," she says.
Municipal funding inadequate
The majority of respondents were also concerned about their lack of resources to successfully implement the new plan. Schools need new digital equipment and study materials. Instruction outside the school often adds to the costs.
"The Internet connection doesn't work. There's no money for transportation to other places from the school," one teacher from Northern Ostrobothnia says.
"Funding is just barely sufficient for arranging the current instruction, where we sit in the classroom and study from recycled books," said a rector from South Karelia.
Ministry invests in teacher training and support
Grahn-Laasonen understands that the new curriculum will be a big challenge to the schools at first. 
"It requires a lot from the teachers, and especially at the start, it is very challenging," she says.
Finland's Ministry of Education has come up with a plan to circumvent the municipal coffers and help schools with their money problems. It has decided to invest 60 million euros in continuing teacher education and the development of teacher education in the next three years. This money will also help to train tutors to assist the teachers implement the new core curriculum's required changes.