A woman in Kouvola was denied a post working in the kitchen of a Karelian Brigade garrison because she holds both Russian and Finnish citizenship, according to an email from a recruitment firm rescinding a job offer.
'Yelena' does not want to give her full name, but is happy to show the rejection letter and tell her story. She applied for a kitchen job via the Kairest recruitment company, and initial signs were good.
The advert stated that the candidate selected for the post should have education or experience of similar work, catering hygiene qualification, to be certified as free of salmonella, be trustworthy and independent and have at least satisfactory Finnish language skills.
A good and secure job
Yelena's Finnish skills are good, and she says she doesn't believe that would have represented an obstacle to employment. When she realised that the job was with the Defence Forces, Yelena was pleased.
"I was happy when it became clear that this was the garrison's cafeteria," Yelena told Yle. "I thought that this is going to be a good and secure job."
Kairest answered her application and said that they were planning to offer her a job suitable for her level of training. She was also reminded that she should have salmonella and hygiene certificates.
Yelena answered the email saying that she had a catering hygiene certificate and her salmonella papers would come in a couple of days. The same day Kairest sent another email, in which the agency said that "our customer demands that workers have Finnish citizenship, dual citizenship will not suffice."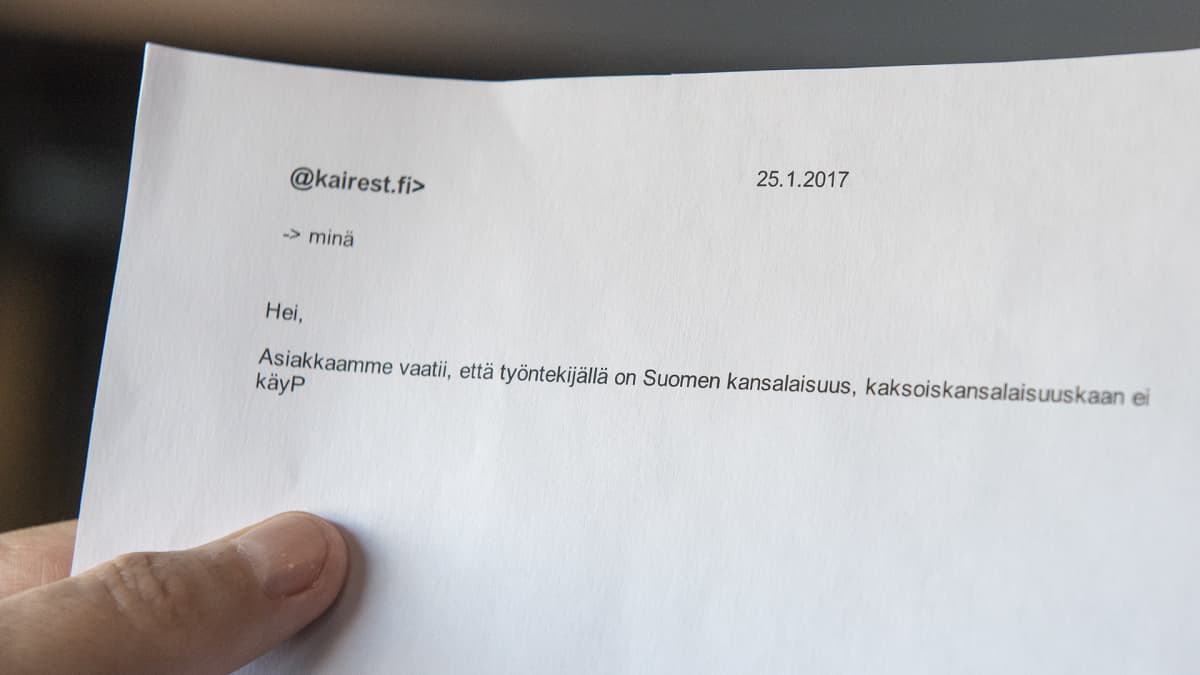 Yelena says she was devastated.
"I had believed I would get a secure job, but all of a sudden I myself was the security risk," said Yelena.
"No security check"
Yle asked both the Kairest employee who sent the email and the firm's CEO for comment. Both declined.
The Defence Forces denied issuing any guidance that dual citizens were ineligible for work on their sites.
"We looked into this individual and we have not carried out a security check on this person," said Sami-Antti Takamaa of the Karelian Brigade. "Those instructions did not come from us."
According to Takamaa, dual citizenship itself is not an obstacle to working in the military, but he offered no explanation for how a contractor might have the impression that it is.
Yle has reported extensively on restrictions apparently imposed by the Defence Forces on the employment of dual Finnish-Russian citizens, but the Defence Forces and the Defence Minister have steadfastly refused to admit to discriminating on the grounds of nationality.