Finland's social benefits provider Kela has updated the contents of its world-famous baby box with new items based on customer demand. The 2017 package also sees the return of an old product -- intended not for newborns, but their parents -- lubricant, which was last included in 2010.
This year, the starter kit provided to mothers of newborn babies includes more than one pair of leggings, which have replaced full-body romper suits. Kela has also introduced a nightgown that doubles as a sleeping bag, as well as a sweater onesie.
As has become the custom, Kela also revised the colour scheme of the baby clothing. According to Kela, customer feedback from its 2016 package described the brown-and-blue-toned colour scheme as "boyish". This time around, the institution's designer opted for more neutral shades of black, grey and white.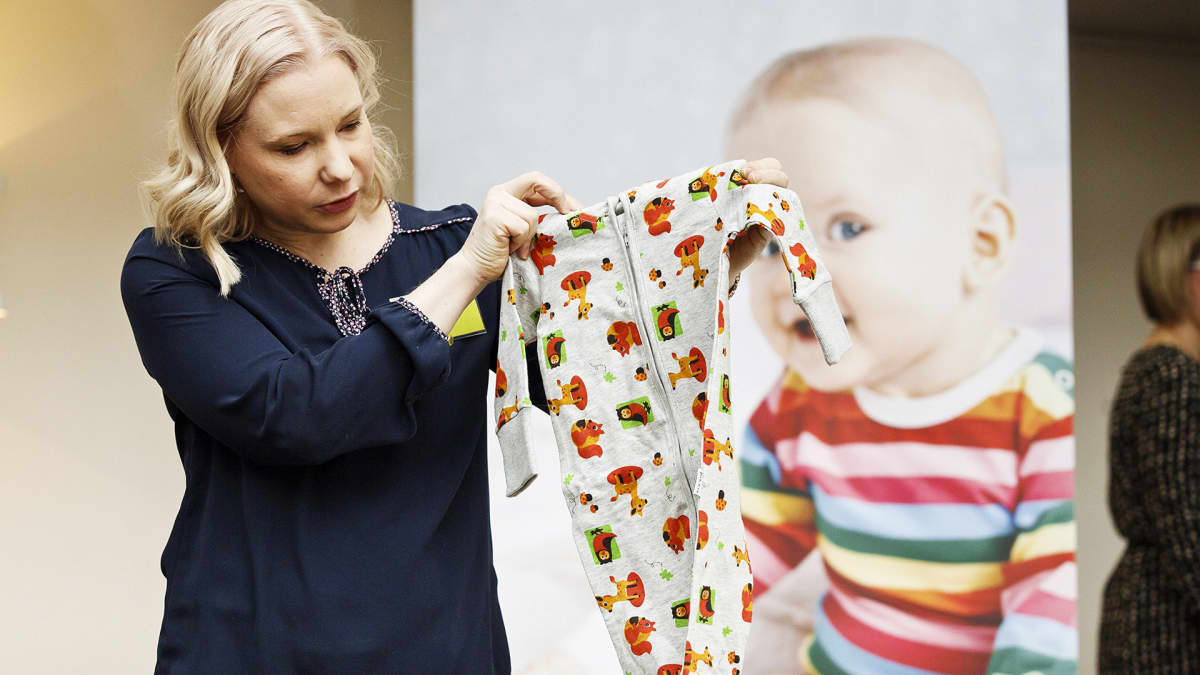 The package also includes what will be the first toy for many babies, a cuddly comfort blanket styled after a floppy-eared dog. The Kela website offers a comprehensive list of all 53 items (siirryt toiseen palveluun) in the starter kit.
Kela engages in a public bidding process to supply the contents of the baby box every year. The cardboard box, which can double as a first bed – fixed or mobile – for babies – still sports the whimsical bird illustrations used in 2016. A new package design will come out in 2018.
New kits for summer babies
Although Kela unveiled the contents of the 2017 starter kit on Tuesday, the box won't be available until later in the year, most likely in time for new family members making a grand entrance during the summer.
That's because Kela said that it still has enough of the old designs to last at least until Easter and mothers need to apply for the benefit at least two months before their due date. Moreover, customers are not free to choose which design they prefer.
Kela said that it also wants to distribute all of the existing packages for environmental reasons. Last year, Finnish residents gave birth to 2,800 fewer babies than in 2015. As a result, Kela handed out 2,400 fewer starter kits.
Permanent residents in Finland can apply to Kela for the baby box, or alternatively they are entitled to a one-time, tax-free payment of 140 euros for newborns. Most see the baby kit as having a greater commercial value than the one-off benefit.
Back in 2010, the BBC helped popularise the Finnish baby box and since then, countries such as the US and Scotland have introduced a similar benefit for newborns and their mothers. The baby box celebrates its 80th anniversary in Finland this year.