Prime Minister Juha Sipilä's coalition government is halfway through its four-year term. That means it is time for a mid-term review: two days of discussions (April 24-25) on the state of the nation, final big political pushes and fiscal planning for 2018-2021.
The Ministry of Finance prepares figures for the review reflecting the state of Finland's economy, and it is based on those figures that the government will make plans for the rest of its term. The newest numbers are not yet public, but Ministry research in February indicates that Sipilä's government will fail to enact its central objectives.
Below are five questions and answers concerning the central concerns to be debated in the mid-term review.
What are the main talking points of the mid-term review?
The mid-term talks will focus heavily on one of the government's most vocal promises, namely raising domestic employment to 72 percent by 2019. The latest figures show that employment is currently stuck at just under 69 percent.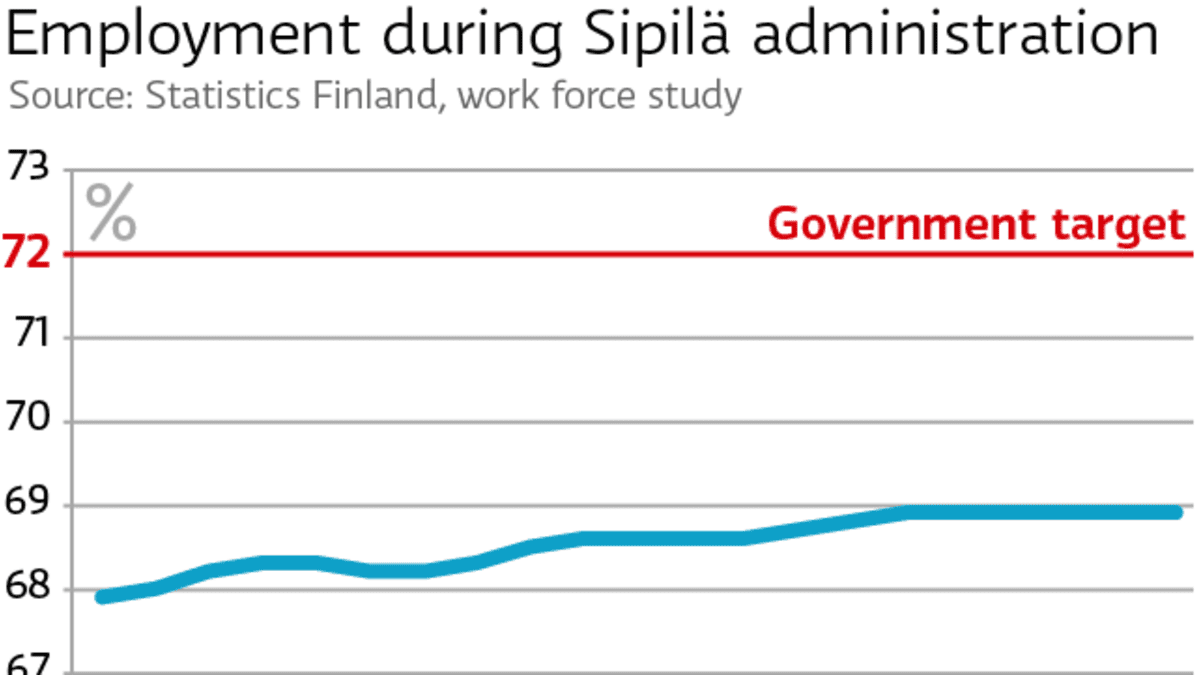 An economic policy evaluation council of five economists warned the government in January that it must avoid a savings backslide. However, additional cuts are unlikely to come up in the review, as numerous ministers have repeatedly promised that all savings measures have now been enacted or decided for the remainder of the term.
Why does employment need boosting?
Reports, including one by the Nordic Council of Ministers (siirryt toiseen palveluun), have long found that fewer working-age Finns are employed than citizens in the other Nordic Countries. The problem this poses comes from the fact that working-age people are needed to finance welfare state services for the unemployed. More workers are needed as the population ages.
The Ministry of Finance says that even the government's current improbable employment target is not enough. Nothing under an estimated 80 percent employment rate can secure all social services, the ministry says.
This means that whatever measures Sipilä's government still has up its sleeve, following governments will face the same issues in the future.
How significant is the post-recession turn?
Positive economic news has dominated the press early this year, which is sure to affect the otherwise skeptical Finance Ministry's review stance. In addition to the ministry, Finnish economic forecasts are also drawn up by several banks and other institutions.
One of the most recent forecasts is from March by the Aktia bank. Aktia's profile indicates that Finland's economy will grow by 1.4 percent during 2017-2018, in both the service industry and in manufacturing.
The bank's head economist Heidi Schauman says she believes that the Finance Ministry's report will look brighter than heretofore indicated. Patience is a virtue when it comes to economic prognoses, she says.
"The Ministry will probably be quite careful with its own prediction. Too much optimism can be fatal," Schauman warns.
Schauman says that the high speed of growth in the past four months is bound to slow down. Statistics Finland published figures on April 13 that show more than 3 percent growth in January and February, which the Aktia forecast says will soon halve.
"It was the same thing last year: a great first quarter followed by a slower pace. All in all the growth figures are moderately good," Schauman says.
Will economic growth help the government reach its targets?
The wind may be at the government's back, but Schauman says that is not enough; much bigger gains should be made for Sipilä's 72-percent vision to be realised.
"Last year's employment stats were in an upswing, but it was far too meagre. And I the past few months the figures haven't budged."
The Aktia chief says that an economic rule of thumb is that if the GDP rises by more than 2 percent per year, employment can be said to grow drastically. But that effect is almost negligible in Finland, she says, perhaps because not as many jobs disappeared during the big slump as expected.
"In terms of employment there is a risk that not enough jobs will be created during this gradual growth period, as many jobs made it through the recession," Schauman says.
Banking concern OP's estimate is higher than Aktia's at almost 2 percent. But even the seemingly more optimistic bank sees no way for the government to succeed.
"We are in a clear upswing this year and next, but despite that we will not be reaching the targets set by the coalition government," says OP head economist Reijo Heiskanen. "This is just a cyclical phenomenon of economic recovery, not a sign of long-term improvement."
What can the government do?
Many of Sipilä's government's employment improvement tools are difficult to implement politically.
Trying to boost employment by cutting services such as housing aid, for instance, would be detrimental to the coalition, especially to the Finns Party following their municipal election bust. Meanwhile incentives need funding that is hard to secure.
Aktia economist Schauman estimates that the easiest decision politically could be to invest in employment agencies.
"I'm sure all the coalition government parties could stand behind an initiative to make it easier for workers and employees to find one another," she says.
More will be known after the mid-term review next week. The review is expected to finish on Tuesday, but negotiations have also been known to continue past the projected deadline.