Even though experts say barnacle geese have been gathering on Finnish fields in ever-growing numbers as they fly south for the winter, the 300,000-strong gaggle that arrived in southeast Kymenlaakso over the weekend was exceptionally large.
Geese have been arriving to the country in larger numbers since 2010, but this most recent avian invasion is the largest to date, according to Markku Mikkola-Roos from the Finnish Environment Institute.
"It's an exceptionally large gaggle. We've never seen 300,000 barnacle geese arrive to the exact same spot," Mikkola-Roos says, adding that estimation of the number of birds is difficult.
He says experienced bird counters' estimates are usually lower than actual numbers.
Mikkola-Roos says that the geese are in the middle of their migration south. They came from their nesting areas in the Russian tundra by the Barents Sea, and headed towards the coasts of the Netherlands, Denmark and southern UK.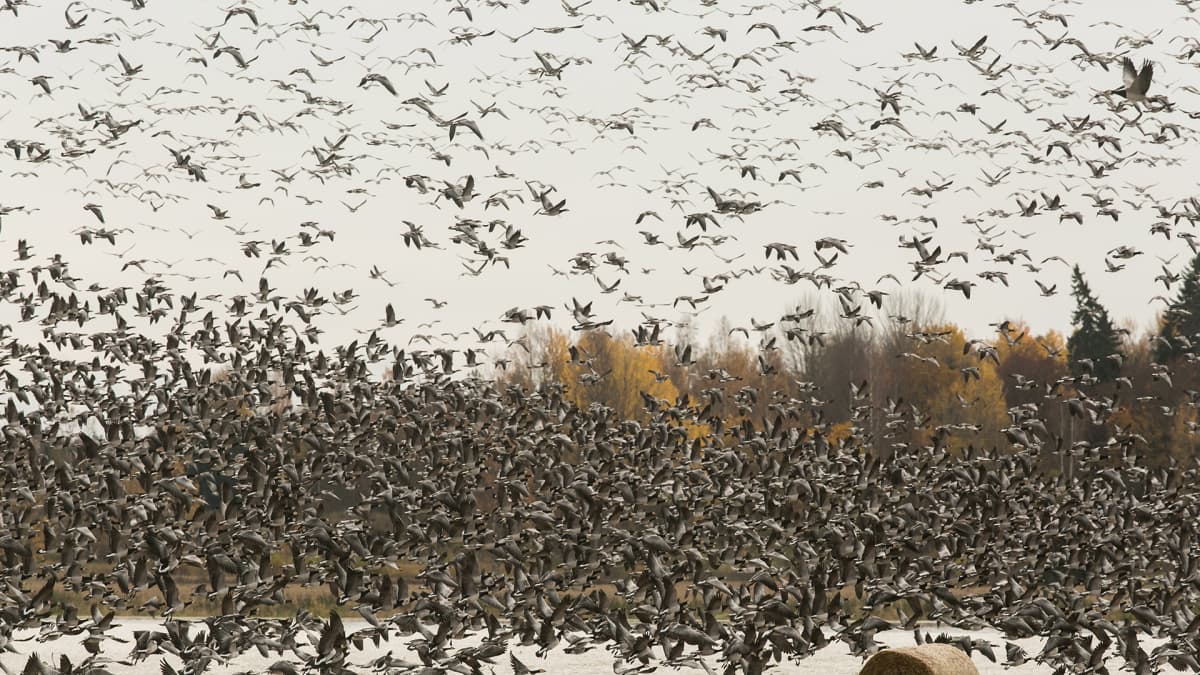 He says the huge numbers of geese arriving to Finland is a relatively new phenomenon.
"Since the beginning of the 2010s, large gaggles have arrived to eastern and south-eastern areas of Finland in October. Previously, they flew right over Finland after they first stopped on the Russian side. But now there are so few open fields in Russia that the geese prefer Finnish ones," Mikkola-Roos says.
The geese also remember good rest stops and tend to gather at the same place the following year, he adds.
The geese have been migrating since September, and when ground frost weather arrives to Finland, they will continue onwards towards coastal areas of the North Sea.