An Yle survey of experiences of and attitudes to sexual harassment has found that more men than women believe that sexual harassment can be the result of a misunderstanding. The survey, which was performed by pollster Taloustutkimus, also found that overall, over half of respondents believed that harassment was not necessarily intentional.
According to Taloustutkimus the results of the survey suggested that sexual harassment is very common in Finland, with roughly half of the young women who participated in the poll said that they had been subjected to it during the past 12 months.
The pollster said that one of the more surprising findings was that on average more young people and men thought that sexual harassment might be the result of misinterpretation. Taloustutkimus research director Juho Rahkonen said that he was surprised by the outcomes.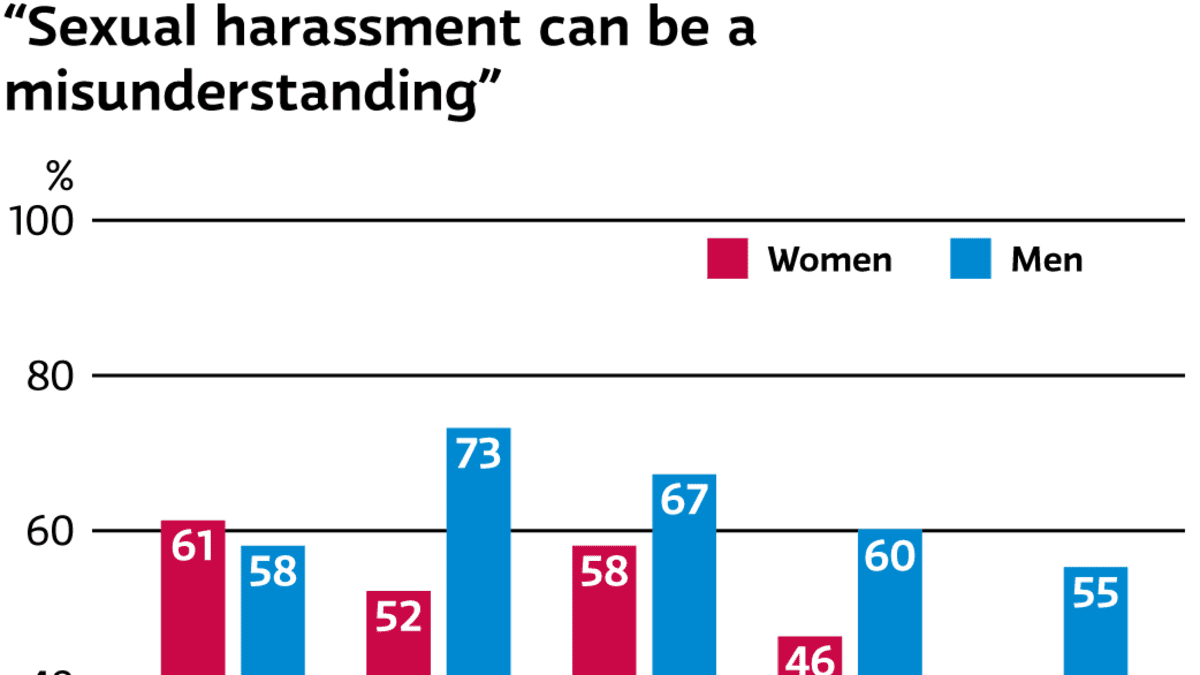 "One would have thought that especially those who have experienced such harassment would be strict on this issue. Maybe they are acknowledging how complicated interaction can be," he added.
Harassment in the eye of the beholder
The pollster said that the results can be partly attributed to divergent opinions on what constitutes sexual harassment.
Above all, respondents' age and gender influenced their opinions on the issue. Quite simply, the most common target of sexual harassment — young women — have a broader definition of sexual harassment than men.
Yle found that 46 percent of women surveyed between the ages of 18 and 24 defined inappropriate staring as harassment. However just 15 percent of men over the age of 50 shared that view.
Meanwhile, 90 percent of young women polled said that sexual innuendo and jokes constituted harassment, while 67 percent of all men thought the same.
The threshold for determining what constitutes sexual harassment increases as the age of the respondent rises. However, all age groups branded inappropriate touching as sexual harassment, regardless of gender. Attitudes to verbal harassment also corresponded with age.
Like their male counterparts, older women were considerably more tolerant of intrusive questions and obscene jokes than younger women.
"I think this suggests that before people tended to overlook these things. Before the culture was more patriarchal," Rahkonen commented.
80% of women sexually harassed
Another Yle survey indicated that a majority of adult women polled — some 80 percent — have at some point in their lives experienced sexual harassment, usually physical.
Otherwise, the some 66 percent of men and 78 percent of women mentioned inappropriate touching as the most common form of sexual harassment. The second most widespread manifestation of harassment was seen as seen as sexual innuendo and lewd jokes.
Respondents to the survey were classified according to income and education level. Of women living in households with a combined annual income of up to 10,000 euros, 49 percent said they had been harassed in the preceding 12 months. Just 12 percent of women in households with a combined income of over 70,000 euros said they had been targeted over the same period.
Income level does not necessarily explain the difference, Rahkonen said. Instead he noted that age might be the determining factor, since younger women generally earn less than their senior peers and are usually the targets of sexual harassment.
"Age is probably more of a factor. Young women as a group experience harassment the most," Rahkonen remarked.
The results of the survey support the pollster's interpretation. When respondents were asked whether or not they had ever experienced sexual harassment, 80 percent of women answered in the affirmative, regardless of income level.
One-fifth of young men admit to harassment
The survey also asked respondents if they had ever sexually harassed anyone. Some 16 percent of male respondents admitted to sexual harassment, while four percent of women owned up. Among young men aged 25-34, 21 percent admitted to harassment compared to just 12 percent among men aged 50-64.
Slightly more than half of respondents — 53 percent — said they would make verbal sexual harassment a criminal offence. Sexual harassment was criminalised in 2014, but at the time the offence was narrowly defined as inappropriate touching.
The survey indicated a split between men and women on criminalising sexual harassment. Some 40 percent of men said they supported the criminalisation of verbal harassment, compared to 65 percent of women.
The survey also asked whether respondents thought that men intervened enough in cases where they say men engaging in sexual harassment. Among male respondents, 14 percent said that men took action in such cases, while eight percent of women agreed. Younger respondents tended to agree more with the idea that men interceded sufficiently.
Respondents were also asked to define sexual harassment. Some 32 percent of the 1,000 respondents said harassers cross the line by continuing their advances after clearly being told to stop.
Some 16 percent defined the act as toughing another's private parts, while 28 percent said it was any kind of unwanted touching.
Other definitions included lewd talk and obscene jokes directed at another person, or just the fact that the object of someone's advances felt harassed or threatened.