A snowstorm will arrive in southern Finland on Monday afternoon and evening, bringing 10-15 centimetres of new snow and a severe wind chill factor.
A gusty north-easterly wind will make conditions feel bitterly cold in southern and central parts of the country.
"A really strong storm low pressure is approaching from the Baltics on Monday," Yle meteorologist Matti Huutonen said on Sunday afternoon.
"North-easterly winds will become gusts in southern and central parts of the country during the day. That, combined with temperatures of about 10 degrees below zero, makes the weather feel very cold, easily corresponding to -20 degrees," he said.
On the Gulf of Finland, winds may reach severe gale force, with sustained averages over 21 metres per second. Heavy snowfall is expected over large areas of southern and central Finland from Monday evening.
That will add to considerable snow that has accumulated in southern Finland over the last three weeks.
"A bit counter-intuitively, the highest snow depths of Finland were found this morning in southern Finland: Lohja 47 cm, Somero 39 cm ... And more snow coming to these areas during Monday-Tuesday," Finnish Meteorological Institute researcher Mika Rantanen tweeted on Sunday.
Clear and cold in Lapland
Meanwhile a high pressure system will still prevail in northern Finland on Monday, with light winds and clear skies. In Lapland the mercury will fall to between -15 and -25 degrees Celsius, or even -30 in some areas.
By Tuesday, the blizzard front will move northward, bringing snow from western Finland to North Ostrobothnia and up to Kainuu.
"The intensity of precipitation will weaken somewhat on Tuesday, but there will still be snowfall and brisk winds," said Huutonen.
Snow and strong winds make traffic difficult
In the early part of the week, those travelling by car and train should reserve extra time and patience. In terms of traffic, the worst conditions in southern Finland will be on Monday night and early Tuesday.
Due to the snowfall and strong winds, poor or extremely bad driving conditions are expected over a wide area from Monday evening on.
"We can expect problems in road traffic as roads cannot be salted due to the cold weather. The wind will blow the snow back onto the road even if it has just been ploughed," Huutonen predicts.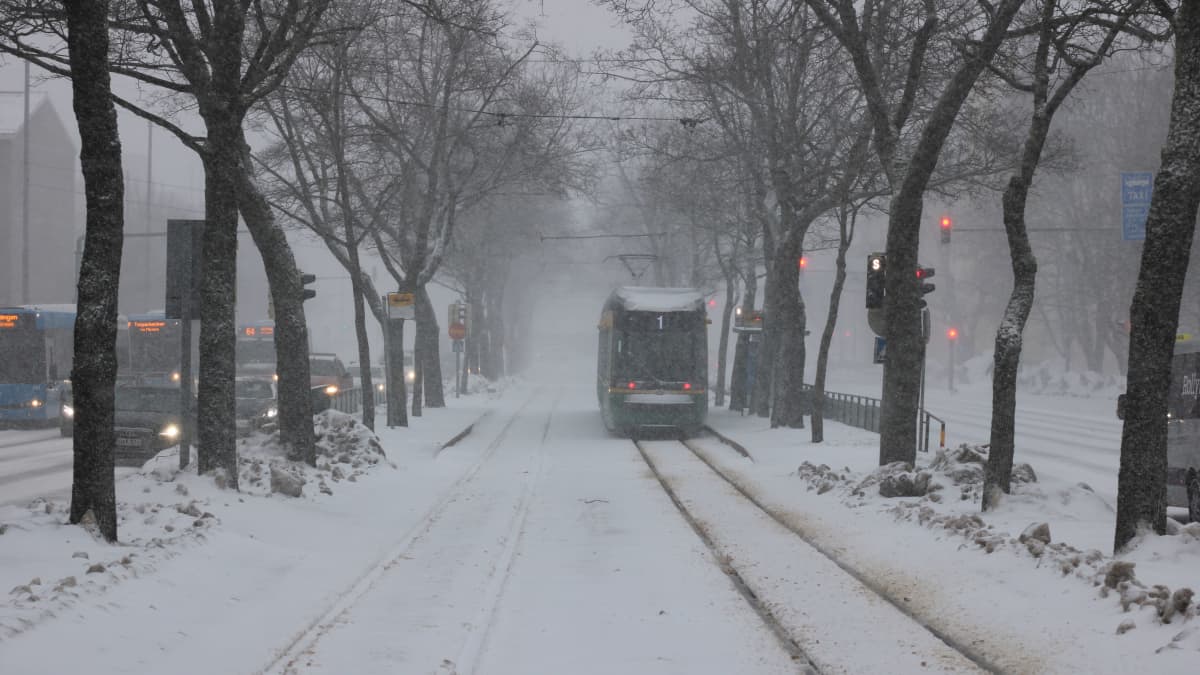 The wind will also likely hinder rail traffic, as drifting snow blocks the gears. Severe cold also makes train operations difficult.
Restrictions on local traffic
Fintraffic, the Finnish Transport Infrastructure Agency, HSL and VR have jointly decided to introduce reduced shift intervals on Monday from 2:40pm in the capital region's local traffic. This means that A and K trains will run at 20-minute intervals. Local train services in the southeastern city of Kotka will also be cancelled, Fintraffic said.
On Sunday some long-distance trains and Helsinki region local trains were running behind schedule due to an electrical fault at the Pasila station. Due to electric damage, some tracks were out of use.
State railways VR reported delays of 15–25 minutes, with some local trains running less frequently than usual.
Fintraffic's rail traffic centre predicted that the fault would be fixed by 11pm on Sunday.