The country's three most popular political parties had roughly the same amount of support among potential voters, according to Yle's February survey.
While the opposition centre-right National Coalition Party (NCP) is still leading with support from 20.8 percent of respondents, backing for Prime Minister Sanna Marin's Social Democratic Party (SDP) increased by nearly a full percentage point to 19.9 percent last month. Not far behind was the opposition Finns Party, at 19 percent.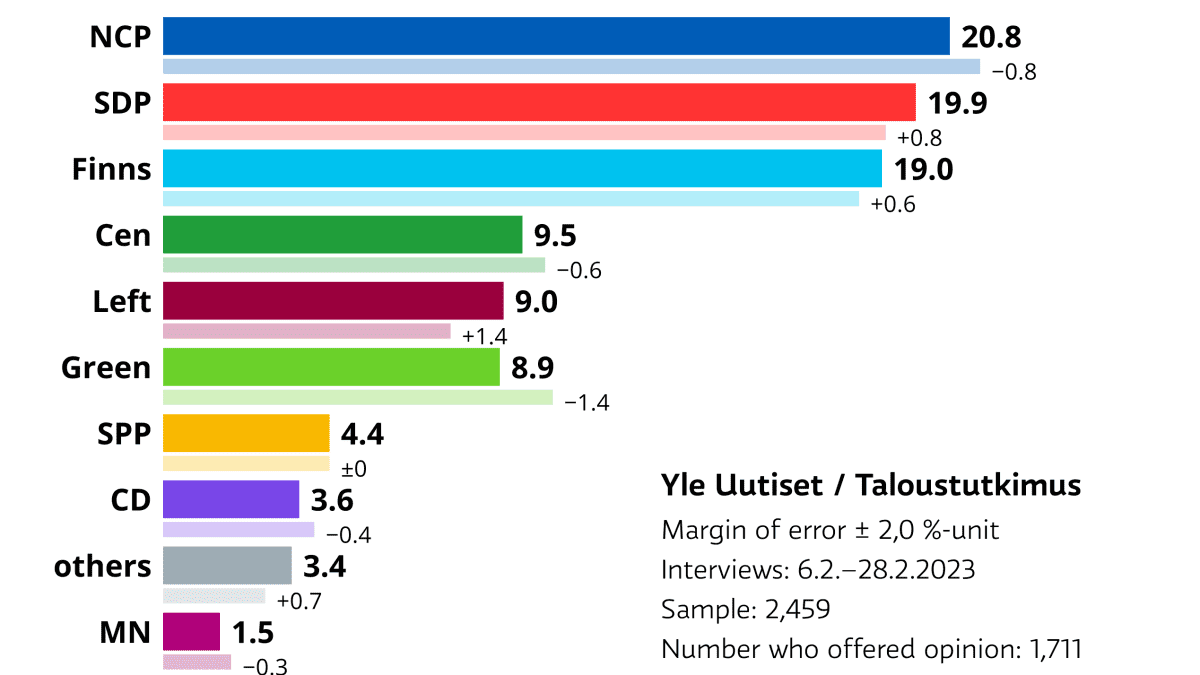 All of the other parliamentary parties were in the single digits.
It seems that the top three parties, with the NCP holding a very narrow lead, will be the biggest winners in next month's elections, according to Tuomo Turja, research director at polling firm Taloustutkimus, which carried out the survey.
Historically, the NCP has been Finland's most Nato-friendly political party and enjoyed a wave of alliance-related support last autumn. However, that wave of enthusiasm may have now dwindled and undecided voters may have moved on, Turja suggested.
Support for the nationalist Finns Party has been stable in the runup to next month's elections, as the party has been able to hold onto its base, Turja explained.
"The open question now is how the Finns Party will get their supporters to the polls," he said.
Greens lose voters to SDP, Left Alliance
The biggest change in last month's poll was that of the Green Party, which saw support drop to 8.9 percent, which marked a drop of 1.4 percentage points. The Greens are one of five parties in the centre-left coalition government.
"We're seeing the same phenomenon that we've seen throughout the election period, that is, voters moving around the red-green parties. The Greens are now losing voters to the SDP and the Left Alliance," Turja said.
Another government partner, the Left, received nine percent support, reflecting an increase of 1.4 percentage points over January. Support for the Centre Party (9.5%) continued to drop last month, following recent figures as high as 10.9 percent.
Turja suggested the rural-based Centre was losing support to the Finns Party.
Finland's smaller parties saw fewer changes in last month's survey. The Swedish Peoples' Party saw 4.4 percent support, roughly the same as four years ago.
"It's also exactly the same level the SFP had in the last survey. There weren't major changes for the Christian Democrats or Movement Now either," Turja said.
The Yle-sponsored poll, carried out by Taloustutkimus, queried 2,459 Finnish people of voting age between 6-28 February. Some 69.4 percent of those polled revealed which party they would vote for if the parliamentary elections were to be held now. The survey had a margin of error of two percentage points in either direction.