Business Analytics, Creative Sustainability, International Design, Business Management.
These are examples of Aalto University's master's programmes in business and economics. The Espoo-based university has plenty on offer — in English.
By contrast, only one master's programme is available to business students entirely in Finnish — corporate law.
The use of the Finnish language is similarly scarce in the field of technology.
Aalto University has stubbornly stuck to offering its higher degree programme predominantly in English, even though two formal complaints have been filed with the Chancellor of Justice over the matter.
In 2013, Deputy Chancellor of Justice Mikko Puumalainen stated in a decision that the share of English-language teaching at Aalto University was "considerable" and that the university was not in compliance with the Constitution, nor the Universities Act. At that time, he called upon Aalto University to report what measures it was taking to alter the situation.
Currently, the office of the Chancellor of Justice is processing a new complaint about the dominance of English at the university that was filed at the end of 2021.
0nly 5% in Finnish
Ten years have passed since the first complaint to the Chancellor of Justice, but there has been no significant change in the university's language guidelines.
According to Aalto University, the policy it continues to follow is that education for a bachelor's degree is mainly in the national languages, Finnish and Swedish, and master's education is mainly in English.
Petri Suomala, the vice-president for education at Aalto University, considers the primary use of English language as justified, because education can lead to an international career or work in an international company in Finland.
"According to my experience, young Finnish people know English quite well," he explained to Yle.
However, the legislation governing universities guarantees students the opportunity to study in the national languages, Finnish or Swedish.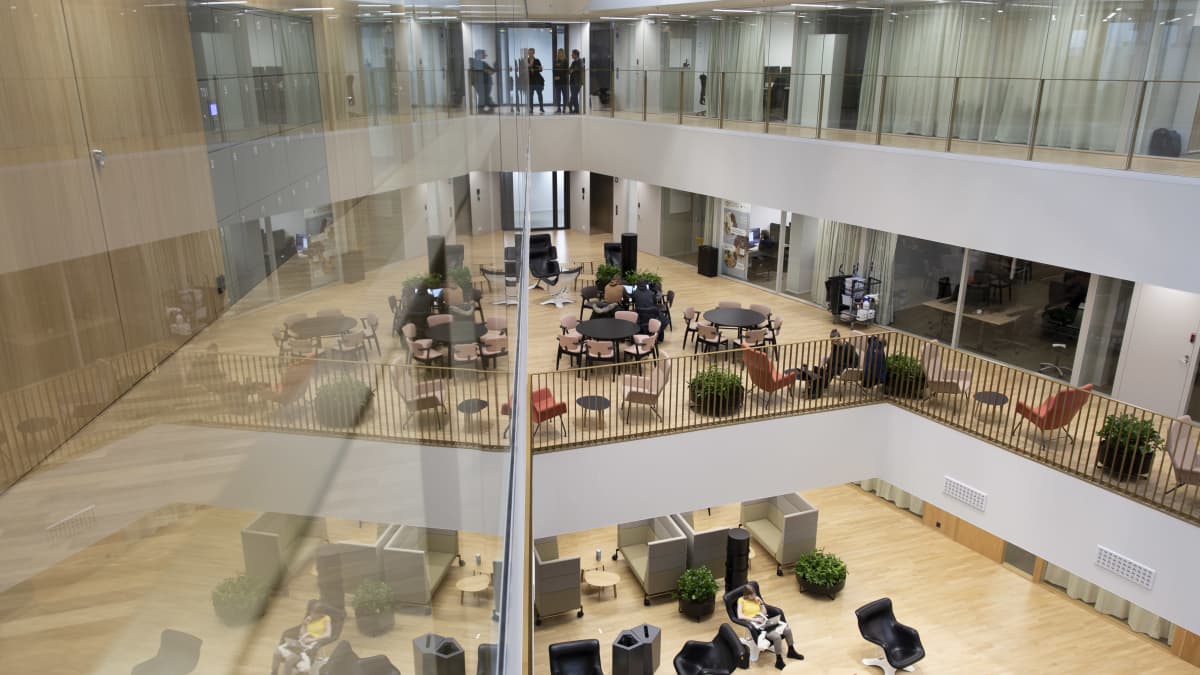 Universities are obliged to provide instruction and examination in Finnish and Swedish except in business and economics, where the language is either Finnish or Swedish.
Universities are permitted to use additional languages in instruction, examinations and written assignments. Aalto university has added English to most fields of study.
As a result, according to the university's own report, only slightly more than five percent of the courses offered in its master's studies in the economics field are taught in Finnish.
For technology studies, ten percent of the courses offered on the master's level are in Finnish.
Physics teaching in Swedish is taught using video recordings, a situation which has raised objections by some students.
Nea Baarman, Aalto University's student body advocacy and communications manager, says that she hears from time to time that students have problems with language policy.
Desire for classes in native language
Some of the students would like to study in their native language at a Finnish university. Others may have insufficient language skills to study in English.
Last year, the student union had to take a stand on the decline in the teaching of physics in Swedish.
Students taking basic physics courses in Swedish had to watch lectures as video recordings, since there were not enough Swedish-speaking instructors.
"There has been no change in that since our statement on the issue," Baarman noted.
The most recent complaint on file with the Justice Chancellor, which is still being processed, specifically concerns studies in finance, which are not offered in Finnish or Swedish at the master's level.
According to the complaint, bachelor's degree studies in finance are also no longer offered primarily in Finnish and Swedish.
Ministry: Foreign degree students should be tripled
The language issue is about balance, Aalto Vice-President Petri Suomala said.
The Ministry of Education and Culture has outlined that higher education institutions in Finland should increase the recruitment of foreign students and researchers.
Under these guidelines, the annual number of new foreign degree students will triple from the current level, to fifteen thousand, by 2030.
"This in turn increases the pressure in the direction of English-language education, so that we can fulfill the given task," Suomala said.
The ministry's target is for 75 percent of the foreign students who complete their degrees in Finland to find employment in the Finnish labour market.
However, according to Petri Suomala, internationalization efforts do not override the Universities Act, which guarantees studies in national languages as well.
"It is clear that vocabulary and the ability to work professionally in Finnish and Swedish is important," he points out.
From the point of view of Finnish and Swedish speaking students, it is also a matter of equality.
In January, the status of national languages in higher education came under scrutiny when Minister of Science and Culture Petri Honkonen (Cen) appointed linguistics professor Janne Saarikivi to examine the issue.
Honkonen said he saw a threat of Finnish degenerating from a language of science, research and thought into, at worst, "an obsolete language".
Saarikivi conducted a survey of students, which revealed that many do not know the terminology of their own fields of study in Finnish.
One of the key recommendations in a report that Saarikivi turned in on Monday is that universities' degree language policies should be more precisely formulated. If the language of degree programmes is by law Finnish or Swedish, it should be very clearly stated that it must be possible to complete the entire degree in these languages, Saarikivi pointed out.
Would you like a roundup of the week's top stories in your inbox every Thursday? Then sign up to receive our weekly email.