Individuals with special dietary needs are not eligible for specialised Finnish border jaeger training, Yle has learned.
This group includes vegetarians, vegans as well as those with celiac disease and severe lactose intolerance.
With the exception of mild food allergies, special diets are off limits for border jaeger training participants.
The Finnish Border Guard trains border jaegers in eastern Finland and Lapland.
The dietary restrictions are due to the demanding conditions troops can find themselves in during emergency situations, according to Ville Juvonen, head of the jaeger border training department in North Karelia.
"Wartime duties are very demanding and it's very difficult to distribute meals. With this decision, we want to make sure that everyone gets adequate amounts of nutritious food even in exceptional circumstances. If diets need to be restricted, it gets more complicated," Juvonen explained.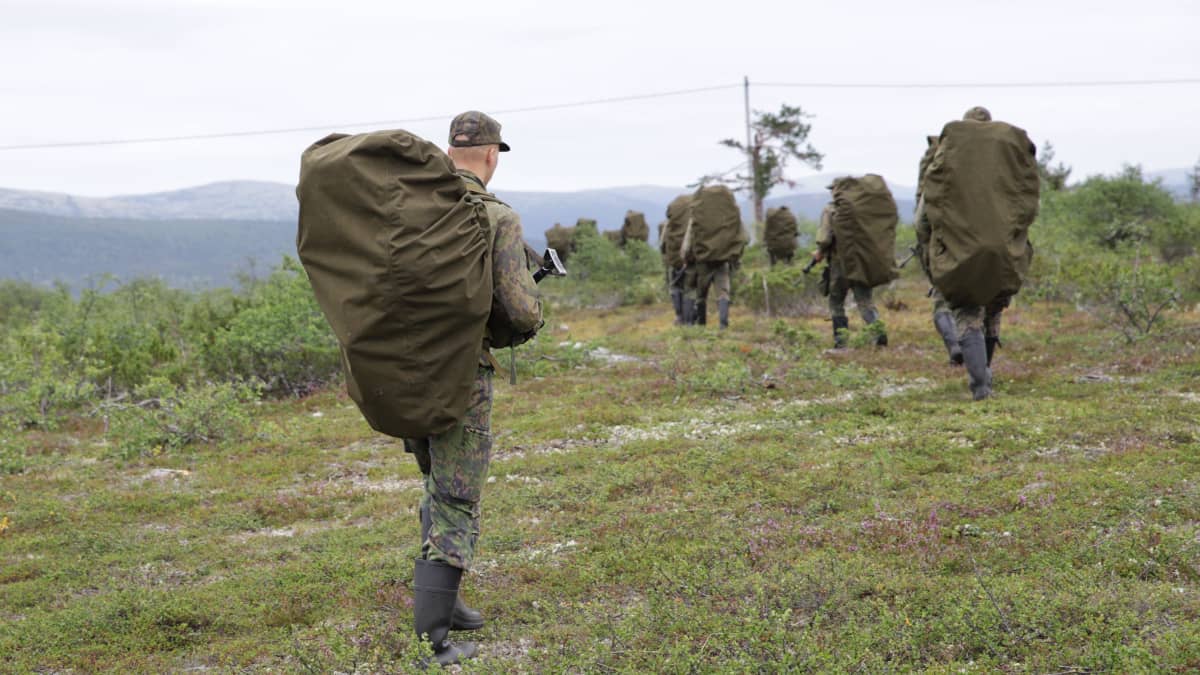 Juvonen added that the Finnish Defence Forces (FDF) made the dietary restriction rules.
The FDF is unable to comment on the justifications behind the decision, according to an email from a representative of the Defence Command's logistics department.
During exceptional circumstances, border and jaeger border guards would be carrying their own field rations, composed of freeze-dried foods that are prepared with hot water.
The troops are also taught how to forage for food in the field, if necessary. For example, they learn how to fish and how to prepare meat from reindeer. Although there are edible plants in Finnish forests, they are not available in adequate amounts, Juvonen noted.
"Admittedly, people have survived on bark bread during exceptional times," Juvonen said, referring to a cambium flour-based bread used during the famine periods of the 18th and 19th centuries.
"But in demanding tasks, a person's energy consumption can be over 6,000 calories. You can't do that with bark bread. High-quality nutrition is needed to get enough calories," Juvonen explained.
Surprises possible
Juvonen said that there have been some issues with field rations, despite the rules barring special dietary requirements for trainees.
Those have included beef allergies, he said, "in small but dangerous situations."
Under normal circumstances, he explained, it's possible to get help quickly, but under exceptional circumstances it isn't always possible.
There is some room for interpretation of and exceptions to the rules, Juvonen said, including regarding some allergies, depending on the situation.
Juvonen said he does not see the need for a change in the rules.
"The current rules work and we have managed well. In military terms, what's possible and what's reasonable are two completely different things. In our business, we start from exceptional circumstances, and things are much easier when they are simple," he said.
Equality issues
In terms of equality issues, there seems to be reason to review the FDF's dietary guidelines for border guard trainees, according to Robin Harms, senior advisor at the Non-Discrimination Ombudsman's Office.
"It seems that people are put in a disadvantageous situation based on their health situation and possibly, beliefs," Harms said, noting that rules should be based on law, since it is a question of an authority's activities.
"You have to have very strong reasons [for such restrictions], which must be acceptable in terms of fundamental and human rights," Harms said.
However, he noted that the FDF's justification for the rules, based on security and exceptional circumstances, seem to be well-founded.
"Ultimately, one needs to evaluate whether these guidelines are reasonable. Is it actually the case that they are absolutely necessary in today's world, or can the same goal be achieved in a way that does not limit rights to the same degree?" Harms pondered.