Finnish director Aki Kaurismäki's 19th feature film, Fallen Leaves, will be screened for the first time to an international audience at the Cannes Film Festival on Monday evening.
Written, directed and produced by Kaurismäki, the film is in the competition series at Cannes, where it is in the running for the coveted Palme d'Or.
The film is described as a "gentle tragicomedy" and as the fourth part of Kaurismäki's Proletariat Trilogy, which includes Shadows in Paradise (1986), Ariel (1988) and The Match Factory Girl (1990).
The lead roles are played by Alma Pöysti (Tove) and Jussi Vatanen (the Lapland Odyssey films), who both worked with Kaurismäki for the first time.
They are expected on the red carpet ahead of the world premiere at the Grand Auditorium Louis Lumière. Meanwhile Kaurismäki, 66, whose taciturn style has broad appeal in France, has announced that he will not give any media interviews at all, which is exceptional at Cannes.
Twenty-one directors are competing for the Palme d'Or, including major figures such as Wes Anderson, Hirokazu Koreeda, Alice Rohrwacher and Wim Wenders. Fallen Leaves is the only Nordic feature film in the Cannes competition.
Festival director Thierry Frémaux, known to be a big Kaurismäki fan, fondly recalled the director's 2002 visit to Cannes at the announcement of the Palme d'Or nominees in Paris last month.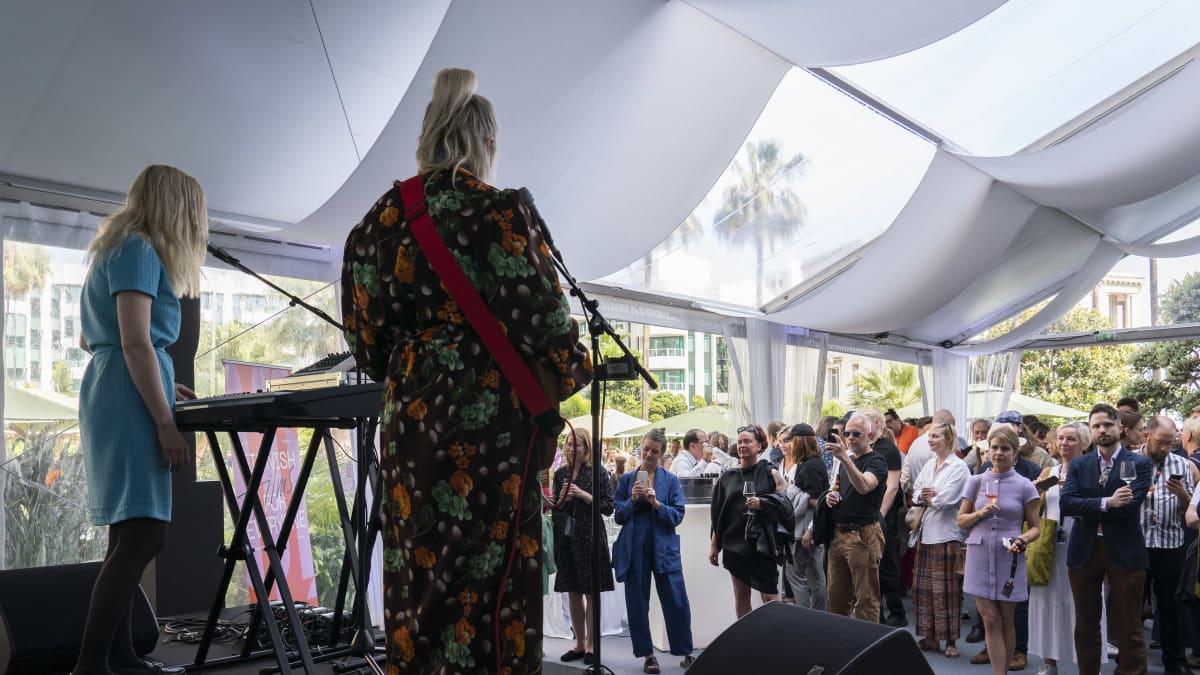 Finnish indie-rock duo Maustetytöt, whose lo-fi garage pop is heard in Fallen Leaves, performed in Cannes on Sunday, offering a tantalising juxtaposition to the glitzy Riviera glamour.
The Golden Palm will be awarded on Saturday, 27 May. The jury is chaired this year by Swedish director Ruben Östlund, known for his no-holds-barred depictions of class society and his fondness of odd humour.
In 2002, Kaurismäki's Man Without a Past won the Grand Prix, the second-place prize at the Cannes festival. The same prize went to Finnish director Juho Kuosmanen's Compartment Number 6 in 2021.