US Secretary of State Antony Blinken started an official visit to Helsinki on Friday, about two months after Finland became the newest member of Nato.
In a speech at Helsinki City Hall, Blinken criticised Russia and President Vladimir Putin's ongoing war in Ukraine.
"Putin's war of aggression against Ukraine has been a strategic failure," Blinken said, adding that the US was working with Ukraine and other countries to find a peaceful way to bring the war to an end.
"We will support efforts – whether by Brazil, China, or any other nation – if they help find a way to a just and lasting peace," Blinken said.
Blinken ended his speech with a reference to 'sisu', the Finnish word meaning fierce determination and grit, and received a rapturous ovation.
Earlier on Friday, Blinken met with Finnish foreign affairs minister Pekka Haavisto (Green). The two leaders jointly signed a statement of Finnish-US cooperation on 6G wireless communications technology.
As Haavisto welcomed Blinken to Helsinki at the signing event, he noted improvements in relations but also pointed out that Sweden is still waiting to become members of Nato.
"Our bilateral relations are stronger than ever. They are deepening our ties in many crucial sectors such as security, defence, and new technologies. Finland's Nato membership offers new avenues for our cooperation," Haavisto said.
In his statement, Blinken said that Finland's leadership and partnership "has helped to achieve historic results for Finland, for Europe, for the relationship between us and in many ways for the world, so I couldn't be more grateful."
"I want to stress our joint determination to also have Sweden as our Nato ally before the Vilnius [Nato] summit. Russia's illegal war of aggression in Ukraine has continued for over a year now and shaken the very foundations of the European and global security order."
Haavisto also noted that Finland would continue to support Ukraine in its defence against Russian aggression.
"Our determination to defend the rules-based order and sovereignty of all countries remains as strong as ever," Haavisto said.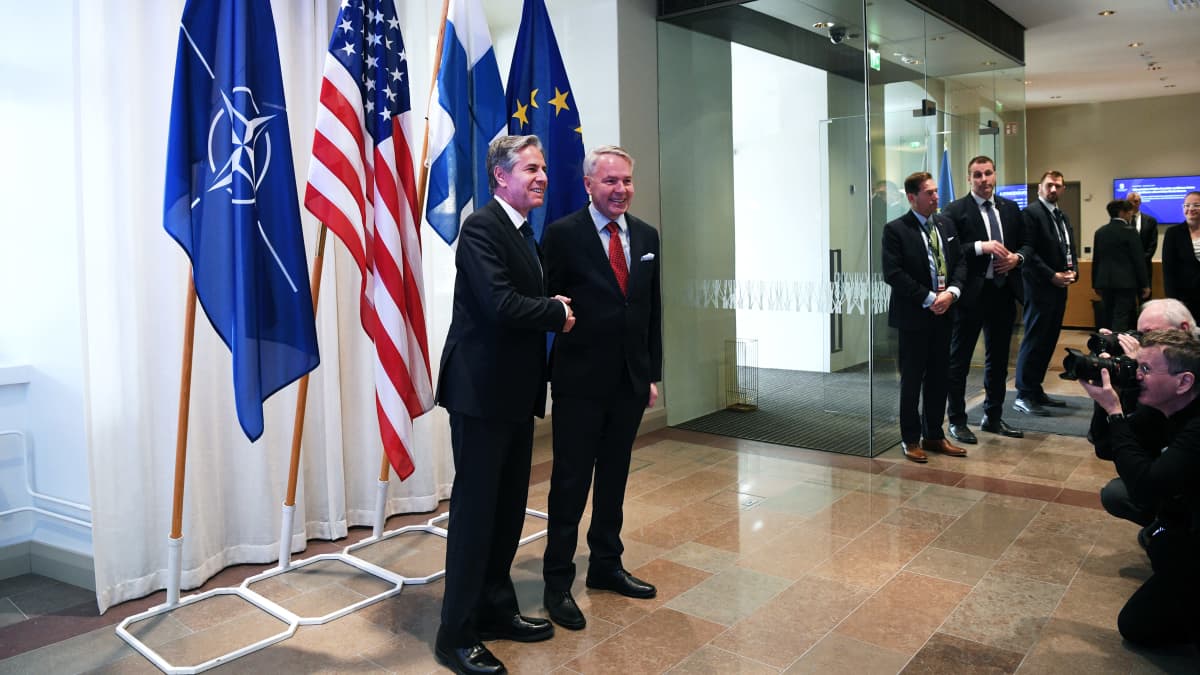 Blinken also met with outgoing Prime Minister Sanna Marin (SDP) on Friday.
Traffic was delayed in the capital on Friday as the large entourage from the State Department moved around the city.
After his official engagements, Blinken met US embassy employees and families in Helsinki, according to a state department schedule about the visit.
Helsinki is Blinken's final stop during a five-day trip to Sweden, Norway and Finland. According to the US state department, the purpose of the trip is to "deepen transatlantic cooperation on top national security and economic priorities."
In a tweet following his departure at about 3pm Finnish time, Blinken thanked Haavisto and noted that Swedish membership of Nato is a top priority.
Would you like a roundup of the week's top stories in your inbox every Thursday? Then sign up to receive our weekly email.