Struggles faced by Russian property owners in Finland, including tightened entry restrictions and challenges with maintaining and selling their properties, have prompted an appeal for assistance from President Sauli Niinistö.
The restrictions mean that some Russians have been unable to access their Finnish properties for up to two years. Igor Kostenko, from St Petersburg, told Yle he is disappointed that Finland does not even allow Russians to maintain their own cottages.
"We would like to be treated as property owners, not tourists. We should also have the opportunity to take care of our properties," Kostenko said.
Some Russian property owners frustrated by the situation have sent an appeal to Niinistö, asking him to facilitate their entry. Originally sent in January, the petition was supplemented with signatures from more than 700 Russian property owners, according to Kostenko.
Access to Finland a gamble
Starting last autumn, Russians have been banned from making tourist trips to their holiday homes in Finland, and only allowed to enter the country in order to address essential repair and maintenance work.
In early July, the border restrictions were further tightened, requiring Russian property owners to provide even more detailed reasons why the repair and maintenance work would need the owner's presence in Finland. This means that Russians should aim to assign any repair work to Finnish contractors without entering the country themselves.
According to Kostenko, ordering required repair work becomes difficult if one cannot even visit the cottage to inspect its condition. Kostenko himself came to his cottage through Norway, which still allows Russian tourists to enter the Schengen area.
The final decision on whether a Russian property owner is allowed entry is made by the Finnish Border Guard at the border.
"It's a gamble. When arriving at the border, you don't know if you'll be allowed entry," Kostenko said.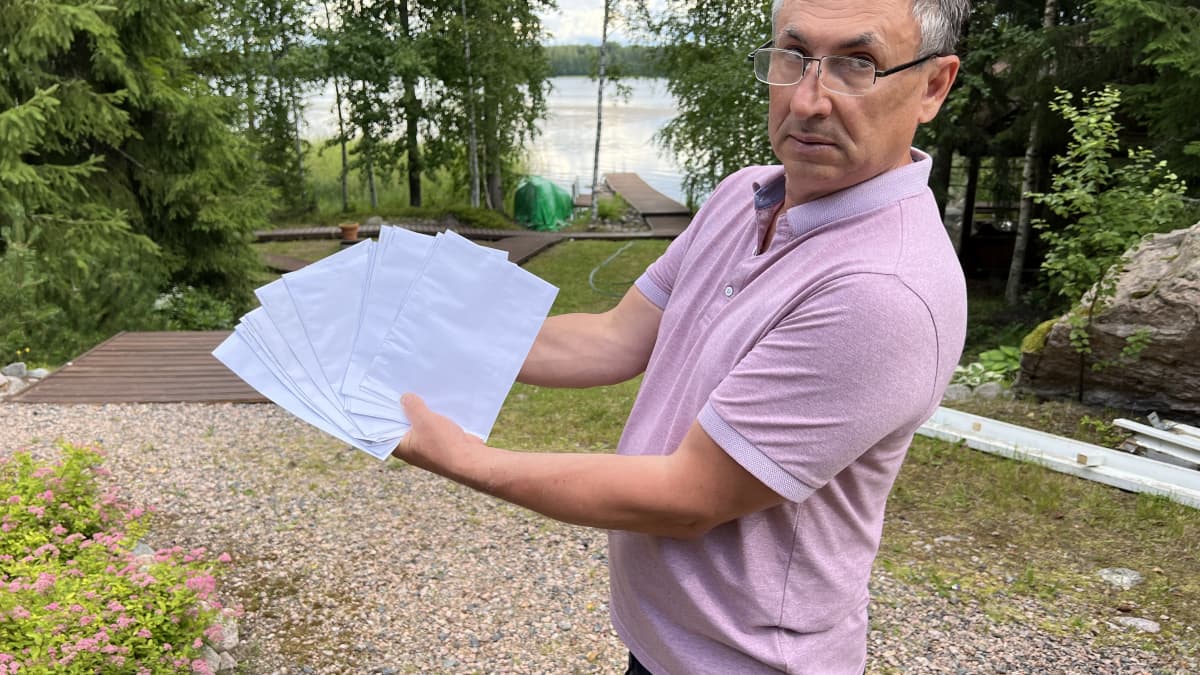 Accumulating bills
Paying bills in Finland has also become challenging for Russians because their bank accounts in Finnish banks have been partially closed, and banking connections between the two countries have been frozen.
The problem is further exacerbated because mail no longer travels between Finland and Russia.
"We used to receive property tax bills in Russia, for example. Now that no longer happens," Kostenko said.
Finland's National Enforcement Authority has confirmed that there have been more collection issues involving Russian owners' property taxes.
"We conducted a survey among district bailiffs in the regions of Kymenlaakso, South Karelia, and Savonlinna earlier this summer. It turned out that Russian property owners are now facing payment problems, which was not an issue before," said Antti Soininen, the leading district bailiff.
Selling property nearly impossible
Due to EU sanctions prohibiting transferring euros to Russia, it is nearly impossible for Russians to sell off their Finnish properties.
"We know a family who sold their house in Finland. However, the bank has not transferred the money to Russia because the account is closed, and banking connections between Finland and Russia don't work," Kostenko explained.
This has resulted in Russians trying to sell their Finnish properties by exchanging them for properties in Russia, he added.