Dressed in a sleeveless t-shirt, blue Adidas sweatpants and sporting unkempt hair, he looks drab and non-descript. Russian President Vladimir Putin has rarely been seen like this.
After playing ping pong in casual attire, Putin doesn't look any more impressive when he sits down for a festive dinner – a far cry from the macho, dictatorial image that Putin has since hewn for himself.
This story based on the footage obtained by Yle demonstrates how distinctly different the Russian leader looked before he came to power.
"This is pre-rich Putin, Putin in a bad shell suit, with a bad haircut, bad vest, doing everyday dad stuff," says Luke Harding, Russia expert and former Moscow correspondent for the British newspaper The Guardian.
The video was filmed in Finland around a May Day holiday in the early 1990s, according to Yle sources. In those years, Putin, aged around 40, was quickly becoming a major political player in St Petersburg.
Yle has obtained a remarkable amateur video of the visit, which has not previously been reported in Finland.
In the video, the usually reserved Putin's self-control sometimes falters. In the heat of a ping pong match, Putin even emits a rare laugh.
"The most striking thing is he is smiling. He looks human, rather than the ghoul he has become," says Harding when shown excerpts of the video by Yle.
During the match, Putin displays a typical mannerism, repeatedly scratching his neck with his left hand. The future president seems unaware that he is being filmed.
This video clip shows excerpts from two ping pong games, where Putin's doubles partner is Anatoly Sobchak, known as the mayor of St Petersburg. Sobchak's bodyguards are the political duo's opponents.
The video was shot at a corporate hospitality villa owned by the Thomesto companies, which had business links to Russia. The getaway was on the island of Torsö in Raseborg, about 100 km west of Helsinki on Finland's south coast.
The Finnish Thomesto conglomerate imported raw wood material from Russia during this time, and therefore connections to key decision-makers on the eastern side of the border were vital to its operations.
These were especially chaotic years for Finland's eastern neighbour. The Soviet Union collapsed in December 1991, and its successor, Russia, stumbled clumsily from communism toward capitalism.
In 1991, Leningrad's name was changed to St Petersburg, and Anatoly Sobchak became mayor with Putin as his right-hand man. As head of the mayoral office's Committee for External Relations, Putin was responsible for the city's ties with the outside world.
However, the political pair found time to travel stealthily to Finland along with their families – and play ping-pong.
Putin and Sobchak's ping pong sparring partners understand their role – providing just enough of a challenge, but not too much, so that their bosses can celebrate a win.
Putin, who is famously paranoid about his privacy, only releases videos that bolster his own authority.
However, in the clips from the early 1990s, Putin was not able to control what was filmed or how he is portrayed. Harding notes that the video also reveals how small Putin is.
"It is wonderful, fascinating, original, compelling footage," Harding says.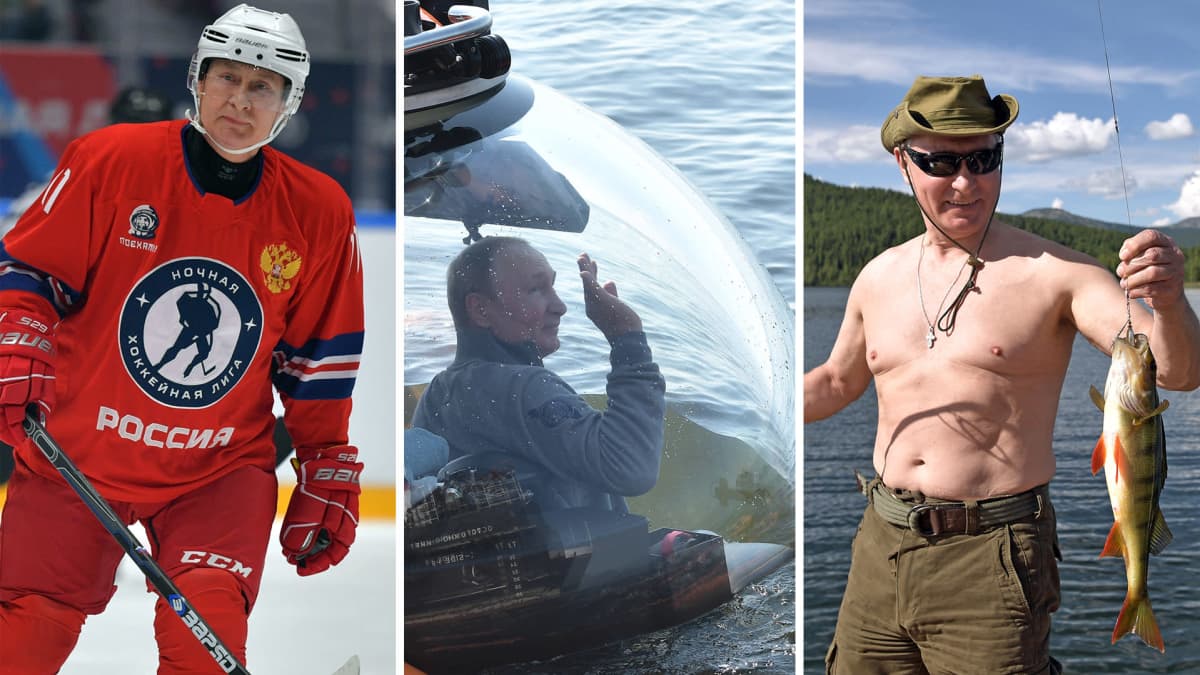 Yle will not disclose the source of the video, because Putin's reaction to revelations about his personal life can be unpredictable. For security reasons, Yle has not named the other interviewees.
The video clips shown in this article have been edited, as the original footage is typically shaky amateur video.
Yle has verified the authenticity of the video, and is in possession of an old VHS cassette containing the clips. Yle has also confirmed the filming location.
The former Thomesto villa is now a private home with a Finnish owner and no longer belongs to the companies.
A short clip of the video has previously been leaked, but it was quickly removed, for instance from YouTube.
When Putin notices that he is being filmed, he casts his gaze downwards. In the still image, shown below, Putin is standing next to Anatoli Sobchak's bodyguard.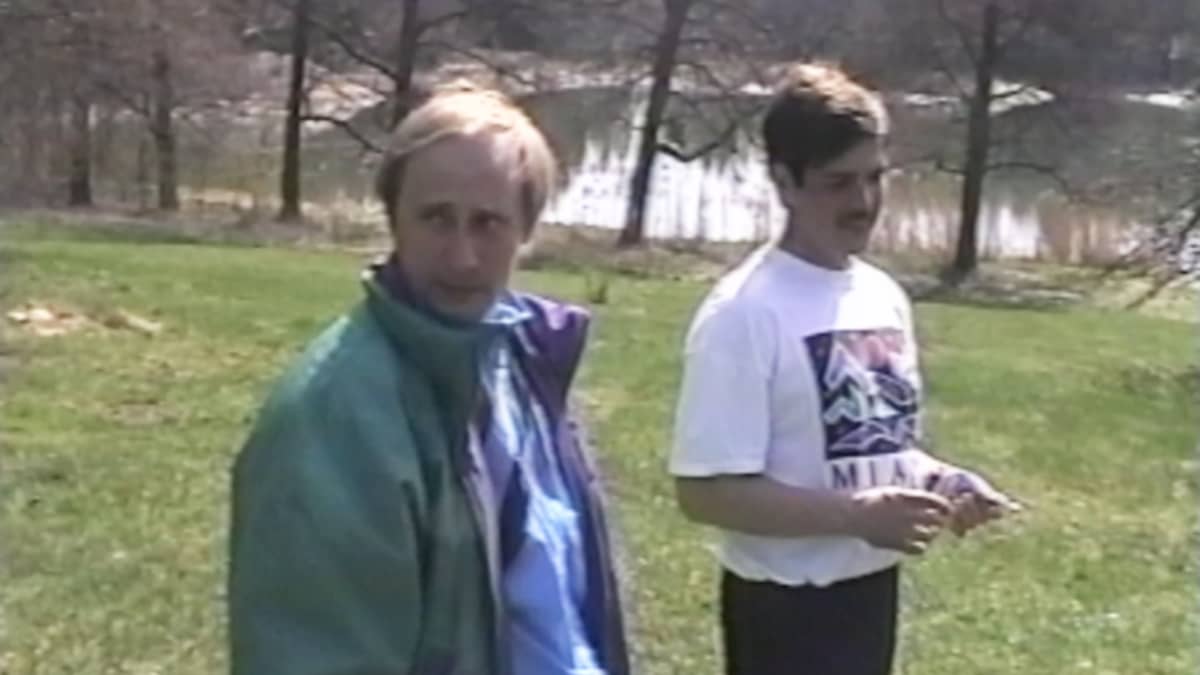 The early 1990s visit was hosted by Finnish business executives aiming to improve trade relations with Russia. In the spirit of the times, this included generous hospitality for foreign guests.
A man who worked for Thomesto at the time tells Yle that no major trade agreements were pending at the time of the visit. However, he pointed out that currying favour with Putin and Sobchak could help with smooth business operations and tax affairs in the future.
The investment could well have paid off, as both of the May Day guests soon rose through Russia's unpredictable channels to power.
Since these were Russian alpha males, there was a need to show off in every respect during the spring trip to Finland – even during a ping-pong game.
"I played one match against Putin, but I won't tell you who won," one source says.
He adds that a key activity during the visit was fishing, as shown in the video below.
Pentti Laukontaus, a Thomesto executive, skippered the Buster motorboat, while Sobchak was seated on the middle bench. The third man in the boat is Putin.
According to an eyewitness, it was important that the guests would catch fish in Raseborg, even though Putin had not yet begun to burnish his image by posing with impressive catches as he later would as president.
"They were really into fishing. They tried with a rod and reel but we had nets out to be sure to catch some fish. They didn't get anything with a fishing rod or a reel," the man says.
A source at the scene recalls how Putin's demeanour differed from the other guests.
On the boat trip, a low-key figure with a receding hairline sits with his back facing forward, wearing an orange jacket.
The others on the boat look towards the camera and shout toward the shore, but the other man sits silently.
With his collar high, he appears to be keeping as quiet and inconspicuous as possible.
"The gestures of a trained spy," says an eyewitness about Putin.
Harding, a British expert on Russia, also focuses on Putin, who is hiding his face.
"One of the things they teach you as kind of the first lessons in spy school is you avoid being photographed. Spies all over the world are pretty reticent, but the KGB in particular, and so this is really, really unusual," Harding comments.
A participant in the Raseborg trip recollects Putin saying that he was working as a KGB officer.
Putin has claimed that he resigned from the intelligence service in August 1991 when conservative communists attempted to seize power from Soviet President Mikhail Gorbachev.
However, that does not mean that Putin had necessarily severed his ties to the organisation. The phrase "once a spy, always a spy" is often repeated in the intelligence world.
With Putin's heavy influence, Russia is now ruled by intelligence veterans who see the world from a suspicious spy's perspective.
Harding believes that Putin considered the filming of the amateur video in Raseborg to be a Finnish intelligence operation – which, according to Yle sources, was by no means true.
Putin couldn't completely avoid the camera during the visit to the island, but at least he controlled the expression of his emotions. On several occasions, he looks rather annoyed.
"It is there, it is very strong, in a young Putin, pre-Botox Putin, but he looks vaguely dissatisfied with the world, sceptical or saturnine," Harding says of the close-up of Putin.
The video below shows the bodyguards setting up a dartboard for Putin.
When the catch was brought to shore, as shown in the earlier video, an eyewitness says the pike was gutted by Putin's then-spouse, Lyudmila Putina. She has since remarried and is now known as Lyudmila Ocheretnaya.
Yle has not been able to verify this claim, but in any case, according to Yle sources, both Lyudmila Putina and the Putins' daughters were present.
A Thomesto employee who was on hand describes Putin's wife as "very pleasant". However, it was much more difficult for him and other Finns to determine what kind of a man Putin himself was.
"You couldn't get close to Putin, like where you might drink a little booze together and talk about women and life – nothing like that. He was very restrictive about alcohol and didn't smoke cigarettes," he recalls.
However, the video shows a unique moment when Putin, a child of the collapsed Soviet empire, jokes about the market economy, while his boss Sobchak is served a large chunk of meat.
The video shows Putin with both wine and beer in front of him during the meal, while others appeared to be drinking only wine.
In Raseborg, as in Russia, spirits also had to be served with meals.
"Yes, we always drank a little vodka there," one of the sources says.
Later, as president, Putin has often been seen clinking glasses after toasts, but has hardly ever been shown eating. In this respect, too, according to British journalist Harding, the home video of the May Day celebration in Raseborg is exceptional.
"He's genuinely stuffing his face and eating food," notes Harding.
In this respect, too, the video is remarkable, he notes.
The group feasts on roasts and jokes about overeating while residents of their hometown were suffering from food shortages. In the early 1990s, St Petersburg shop shelves were often empty and food was rationed.
Putin warned Russians may flood across the border
According to an Yle source, Putin said very little at the Raseborg villa. However, one of Putin's questions to the man stuck in his mind.
"He asked me what would happen if one and a half million Russians suddenly crossed the border. I said it wouldn't happen," he recalls.
Putin genuinely suspected that such a mass exodus might be possible, he says. Conditions around the time of the collapse of the Soviet Union were chaotic and people were worried about their livelihoods.
The man says he replied to Putin that there was no worry about an influx of people crossing the border because the Russians were so fond of their homeland.
Putin is not ageless, despite the Botox
Sobchak, who died in 2000, was seen as a reformist leader in Russia. Putin's convictions at the beginning of his political career were less clear.
"Which Putin are we seeing? Are we seeing Putin the democrat? Or are we seeing Putin playing one of many roles he played during his career?," Harding asks.
In the 1990s, Putin visited Finland often, especially as a guest of St Petersburg's sister city Turku. Later, Putin moved to Moscow and became head of the FSB, the successor of the KGB. That paved his way to the Kremlin and the country's most powerful position.
On becoming president in 2000, Putin looked young and dynamic compared to his predecessor, Boris Yeltsin. Harding notes that Yeltsin was largely incapable of carrying out his duties and he was often drunk.
"And then you have Putin sweeping in like a sober, almost German-Prussian efficient modern technocratic leader," Harding says.
Putin, seen playing ping-pong in Raseborg with untidy hair and loose sweatpants, has since sought to improve his image through the unlimited resources at his disposal. The end result is a grotesque reversal of the aims.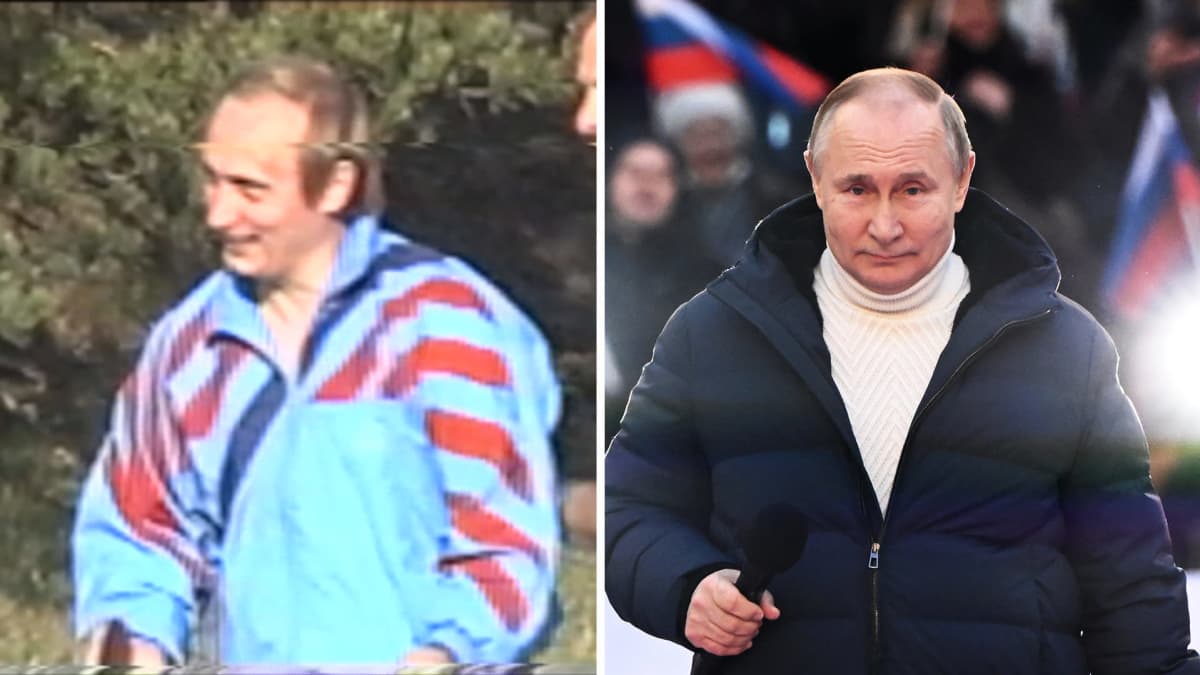 Now, at nearly 71, Putin has reportedly tried to rejuvenate himself with cosmetic surgery and Botox injections to smooth facial wrinkles, says Harding, resulting in a swollen, rounded face.
"Clearly there's work that's been done to make him look kind of youthful, like an ageless father of the nation, but the reality is, to my mind, he looks rather terrible," he says.
In the early 1990s, Western-designed Adidas sweatpants were fine for a KGB spy – even though Western values were not.
Putin, like other Russian billionaires, buys the most expensive fashion money can buy, and doesn't even pretend to identify with ordinary people.
One month after launching his war of aggression on Ukraine, Putin preached to Russians about the evils of the West in a Moscow stadium while wearing an Italian designer coat priced at more than 10,000 euros – which hardly kept him any warmer than the orange Thomesto thermal jacket he donned for a Raseborg fishing trip decades ago.