The "ball bit" and the Sandbox as building blocks of innovations
Published 15.09.2021 17:12.
Updated 16.09.2021 14:54.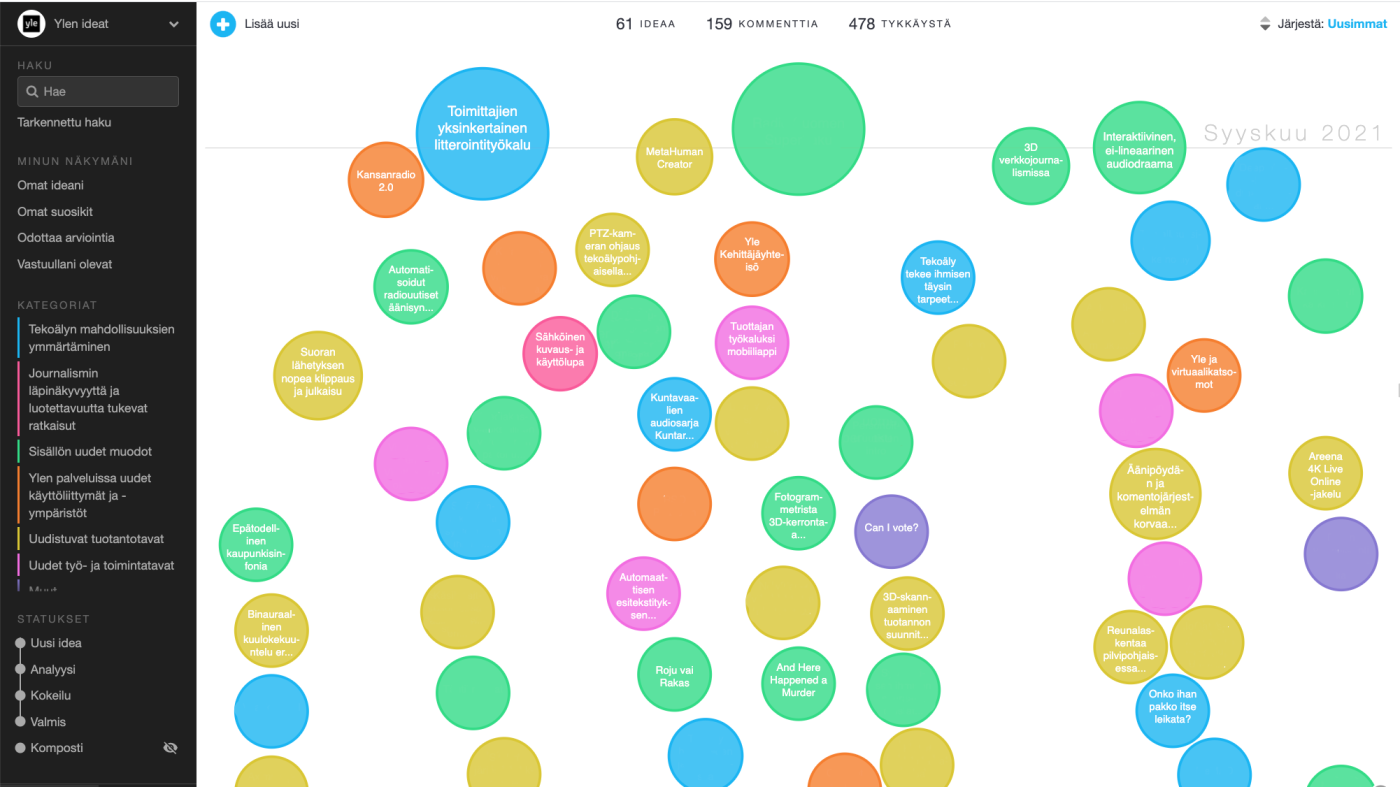 The world around us is changing at a rapid pace, so many communities and organizations often find themselves considering how to be relevant in the future as well. In addition to systematic studying of the future, agile operations and rapid product development, the key to being continuously relevant is innovation. Being innovative helps to improve existing products and services as well as open completely new doors towards new opportunities. This story discusses two tools Yle uses to facilitate innovation.
The happiest place on a passenger ferry is the ball pit
The passenger ferries that sail overnight between Helsinki and Stockholm have been popular mini-holiday destinations for decades. Of course, Covid-19 has decreased traffic but people are eager to go back cruising as the pandemic eases.
In each ferry the most popular place for small children is the "ball pit" where kids can swim among small and soft balls, play and consume the energy they got from the "all you can eat buffet dinner" - another popular attraction on those ferries. After good play it is time to go to bed and in the next morning one wakes up for a day-long visit in another country where life looks a bit different and people speak different language.
Also in Yle we have introduced a "ball pit". Instead of kids, it is the new ideas of our employees that float in our ball pit, also known by the name of the product we use "Viima", but we in the Yle Innovations team prefer to talk about the "ball pit of ​​ideas".
Just as the ball bit on ferries between Helsinki and Stockholm allows children to use their imagination and play, the ball pit of ideas presents Yle the opportunity to look towards the future and get excited about something new. All employees can see the ideas out there, comment and rate them, or pick them up for their own needs. For the inventors of ideas, it provides an easy way to make ideas visible, get help developing them, and to be the owners of ideas when exploring and developing them.
Take Make it easy
"Well but what's the buzz here - ideas have been invented and collected for as long as I can remember," someone is asking already. Quite true, ideas have been collected in different forms, in different places and at different times, so in that sense there is nothing new here. A new twist is created by the ease of ideation and experimenting, the wide visibility of the activities in Yle, the sociality brought by commenting on ideas and the visualization of the entire innovation portfolio.
All Yle employees have access to the "ball pit of ideas". Suggesting ideas has been made easy, with at least a name and description of an idea entered on a simple form. The other fields on the form guide the proposer of the idea to refine it further and consider its value to those who could potentially benefit from the idea.
Existing ideas are easy to browse in the user interface, where each idea appears as its own ball, which, when clicked, opens more detailed information about the idea. The latest ideas appear at the top and the ideas that have garnered the most likes and comments appear larger than the others. Anyone can visit at any time to see how ideas have developed and whether new ideas of interest have arrived.
Liking ideas and commenting on them also creates a social dimension to the activity. Anyone can comment on an idea suggested by another person and make it even better, or sign up to work on the idea.
Our own ideas are often the dearest to all of us, and the transparency of the ideation process helps to secure IPR's of people who create ideas and allow them to be involved in further development of their ideas.
In order to test ideas quickly, we have been developing a concept known as "Yle Sandbox" for a few years now. Yle Sandbox aims to keep the journey from idea to first experiment as short as possible and the necessary "bureaucracy" to a minimum.
Known for its simplicity, Yle Sandbox promises that experiments deemed useful will receive funding and other support relatively quickly when needed. Most often, our autonomous Sandbox team responsible for Sandbox operations makes funding decisions bi-weekly but sometimes in a couple of hours. In addition to funding, the Yle Sandbox team also helps to develop and take the idea forward.
We encourage experimenting teams, who we trust to be subject matter experts in their own area, to work autonomously and ask for help if needed. The teams also set up the hypothesis and metrics for their experiments.
The "ball pit of ​​ideas" is also a great way to make the entire innovation portfolio visible, and in fact, it was the easy-to-read visual representation of ideas that took us to use Viima to visualize the entire innovation portfolio, as well as to collect and process ideas. Over the course of a few months, we tried different ways to visualize the innovation portfolio and, after all, this way in which ideas are refined into experiments and innovation projects and at the same time "automatically" form an up-to-date snapshot of the innovation portfolio proved to be the most suitable solution for us.
An easy way to make ideas visible, expose them to the thinking of others and try them out is a first-class ticket on the trip to the innovative future and the creation of continuous value for each organization.
Where is the ultimate goal?
Yle wants to be an increasingly innovative player in the media scene and offer our audience information, entertainment and experiences.
During the Eurovision Song Contest and the European Football Championship, Yle, together with our audience, tried out the opportunity to "watch events together" with friends. In a "watch together" experience friends can watch a synchronised video stream at the same time as well as talk to each other using video call, no matter where they are located.
We are also ​​developing our own tools and e.g. a faster way to share interesting moments of events as video clips to the public.
At the European Football Championships, we tried to bring the matches of Finnish team to be watched on smart TVs in UHD resolution. There were some challenges along the way but now we know what needs to be fixed before trying again.
In addition to the above, new innovations and experiments are already underway.
We are not striving to the future from far behind, because Yle has been innovative already before - after all, for example, our world class VoD service Yle Areena, NewsWatch mobile application and its smart news assistant Voitto as well as Troll Factory are innovations made in Yle.
As the world around us changes rapidly, we too need to change our thinking and ways of doing things. The children playing in the ball pits on ​​ferries are on their way to another country and new adventures. Our ball pit aims for the same - we want people to be able to explore the future and remove barriers from our way to the future by creating an atmosphere where ideation, continuous improvement and disruptive ideas are always on one's mind and a central part of the corporate culture.
We launched the "ball pit of ideas" in late April this year and initially typed in 38 ideas that were already in our innovation portfolio. Since then, 23 new ideas have been received. The ideas have been liked 492 times and have garnered 161 comments, thus, the social side of the ideation process has started to develop too.
We've got a good start, but we want to see the amount of new ideas to grow rapidly in the coming years.
Of course, there are a couple more things to work on. People definitely need more time to develop ideas and experiment. Most of our employees are effectively tied to their daily work and simply have no time to turn their ideas into innovations. Also, as the number of ideas grows, there is need for a process that recognizes the most valuable ideas and allows them to grow and fly.
There is lot of work ahead, but I'm optimistic and believe that good solutions can be found when the innovative state of mind exists.
I believe that the future Yle is a mix of Toyota and SpaceX in terms of innovation; on the one hand we generate and implement a large number of ideas in an efficient and well organized way - on the other hand some of our ideas are disruptive and shall have a big impact on the media industry.
On our way to the innovative public service media company of the future, we incubate ideas in our "​​ball pit" and test ideas in our "Sandbox".
Innovation Lead Jouni Frilander works in the Yle Innovations department and accelerates Yle's innovation activities and innovation culture.
He believes that open-minded people and technology together create epic possibilities and the future, made possible by artificial intelligence, brain-computer interfaces and extended reality, is, in all its strangeness, an inspiring, entertaining and better place for humanity.