We are here for all Finns
Yle is the public service media company of all Finns. We help to understand the world better, provide information and experiences, entertainment and education. Our programming is available to all on equal terms, regardless of the financial standing or place of residence. This is our primary duty and the mutual goal for all of our employees. We reach 96% of the population weekly.
Yle is seen, heard and felt
Yle creates the most popular online, television and radio content in Finland. We bring shared experiences to every home in Finland like news, major sport events, drama, factual programs, entertainment and safe content for children. We are proud to be a part of people's lives all year round.
Yle <3 the Finns
The best part of the job is meeting and interacting with people; it inspires our work, challenges us to innovate and makes our work worthwhile. The Finns also seem to like us. Yle is Finland's most valued media brand, and Yle Areena is the most valued online brand. Ninety-two per cent of people think that we have been successful in our public service mission. However, we want to do even better.
Finland's most versatile creative work community
We employ journalists, cameramen, digital developers, as well as a wide range of technology and media professionals. We work and create in several languages. We aim to be at the centre of events. Therefore, Yle operates in 25 locations across Finland, from Tammisaari to Inari.
With us you can improve your competence
We offer a wide range of job opportunities with excellent insight into the media industry. Our outstanding talents embrace our experimental culture. We encourage agile working methods and flexibility. We reward meeting the objectives and succeeding. We make sure that our employees cope with their work, and provide healthcare and dental care benefits, sports activities and clubs.
We create new
As a media pioneer, we engage in the transformation of media, both in Finland and internationally. We develop new ways of being present, telling stories and captivate our audience. Our services facilitate media use and smooth out the bumps in everyday life. We want to be the world's best public service media company!
What will your story be like? Start a career in Yle!
Get to know Yle employees
We focus specifically on strengthening a self-directed and experiential working culture at Yle and developing ways to listen to our employees better.
For decades, we have been carrying out goal-oriented and active work on equality, with good results.
Responsibility is the core of Yle's duties and value-based operations. Read more about our responsible actions.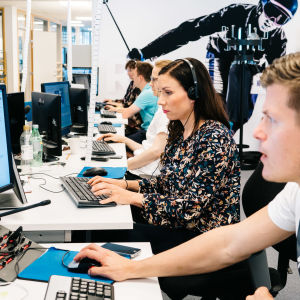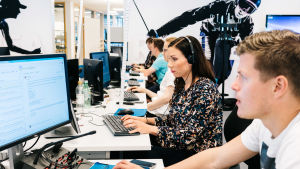 Organisation
Get to know Yle's organisation and its units.
News Lab is the news development team of Yle. News Lab works with the Yle.fi frontpage, Yle NewsWatch and developing new forms of journalism, just to mention some. News Lab also researches how the users consume different forms of media and what kind of needs and fears they have.