Yle operates four television channels on three national channel slots, six national FM radio channels complemented by over 20 regional radio programmes and three radio services.
The television channels are Yle TV1, Yle TV2, Yle Teema and Yle Fem.
The television channel slots are Yle TV1, Yle TV2 and Yle Teema & Fem. They are available also in HD format.
The radio channels are Yle Radio 1, Yle Radio Suomi, YleX, Yle Vega, Yle X3M and Yle Puhe. Radio services are Yle Klassinen, Yle Mondo and Yle Sámi Radio.
Yle Klassinen (Yle Classic) is a digital classical music channel from Helsinki, Finland. It operates 24 hours a day and can be listened to over the Internet everywhere in the world.
Yle Mondo is a multilingual radio channel. Most of the programming comes from select international radio services. Yle produces a service in Russian and news in English as well as news in plain Finnish, a simplified form of Finnish for easier understanding.
The websites are yle.fi, svenska.yle.fi, Yle Areena and Elävä Arkisto media archive.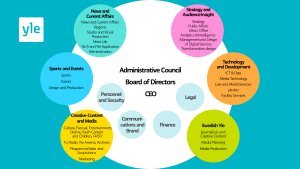 Organisation and The Management Group
Yle is governed by its Administrative Council, Board of Directors and Chief Executive Officer. The Management Group is responsible for operative management.
Yle's main units are Media, News and Current Affairs, Svenska Yle, Creative Content and Operations. The joint operations consist of Financial and Personnel Services, HR, Communicational and Strategic Functions and Legal Affairs and Internal Monitoring.