How is AI going to change the media industry within the next few years? Are messenger services the next generation of social media? How should a media house be present in messengers – as bots or personas?
Media robots are renewing the processes of traditional journalism, enabling reporting in milliseconds and in an unprecedented scale. Welcome to the Yle Beta Day: Media Robots -event to find out more about bots and to build the next generation of journalism and storytelling on 1st of September 2017 at Yle Studios in Helsinki.
The keynote speaker is messenger platform pioneer Paul Walsh, who talks about how no aspiring media house can afford to disregard messenger services.
We will also get an update on the latest news and future plans of the Finnish media robots and the key players building them.
Registration to Beta Day: Media Robots will open 7th of August 2017.
The event will take 120 participants via registration.
Event agenda
8:30 Coffee
9:00 Welcome / Anssi Komulainen, Yle Beta
9:15 Messenger Platforms - Bots as the next generation interface / Paul Walsh, MetaCert
10:15 Case Studies: Yle Beta chatbot pilot, BBC North Lab experiments with messenger platforms, and Yle Voitto -bot
10:45 Panel (In Finnish): The future of robot journalism in Finland / Jarno Kartela, DNA, Esa Mäkinen, HS, Lassi A. Liikkanen, SC5, Caj Södergård, VTT, Jarkko Ryynänen, Yle. The panel is moderated by Jarno Koponen, Yle.
12:00 Lunch available at own expense
13:00 Workshop: Best practices when building bots / Paul Walsh, MetaCert
13:00 Workshop: News editor meeting (invite only) / Marit af Björkesten, Ismo Silvo, Yle
15:00 End of the day
The keynote speaker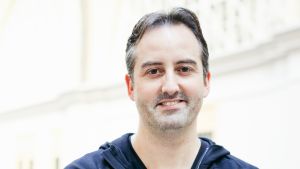 Paul Walsh
CEO, MetaCert
Paul Walsh is an Irish entrepreneur who founded several companies and has helped to launch a number of renowned developer communities internationally on behalf of Vodafone and Telefonica. Currently his quest is to bring together leading industry stakeholders including publishers, platforms, fact checkers and technologists, to help tackle some of the challenges that we face today in the media industry.
Walsh is Founder and CEO of MetaCert, the number one company in cybersecurity for Team Collaboration Services such as HipChat, Slack, Skype and Messenger. As the leader in Content Labeling, MetaCert has built the world's largest database of classified websites to help companies avoid placing ads on websites that contain Fake News or undesirable content. It also helps to protect companies from 'Malware, Phishing and XXX web links.
In 2003 Walsh founded a software testing and compliance company called Segala. During the mid 90's Walsh was part of the AOL team that launched technologies such as AIM, X2 56K modem protocol, Internet Radio and Online Games. He was also one of the seven original founders of the W3C Mobile Web Initiative.
He has been the Chair of the British Interactive Media Association and Advisor to the British Council.
Paul Walsh is also a Co-founder of Shanti Life, a low-interest microfinance charity which helps poor entrepreneurs in India get their businesses off the ground with micro loans, mentoring and education in basic literacy skills.
Contact information:
Yle Studios
Uutiskatu 5
00240 Helsinki
For further information, please contact
Anssi Komulainen, Yle Beta
anssi.komulainen@yle.fi