Racking pain and mental wounds – downhill cyclist Matti Lehikoinen rode himself to the doors of death
Matti Lehikoinen turns up for the interview in an estate car. There was a mountain bike worth thousands of Euros on the roof rack. Finland's most successful downhill cyclist got out of the car, a 33 year old father whose face is full of metal, his spinal vertebrae are broken and even his tongue is scarred.
Soon the loose fitting jeans are changed for cycling shorts and knee protectors. Matti lifts the bike down from the roof rack, puts his helmet on and heads off towards a nearby wood.
The cyclist has promised to show us what kind of discipline this is and at the same time to talk about his pain-filled story of injury.
Let's start from the very beginning.
A mother's instinct is miraculous. When Matti wanted to start downhill cycling at the age of 14, his mother was completely opposed to the sport. Too dangerous, his mother thought. Her son did not listen to the warnings, just threw himself with his bike down slopes at tremendous speeds.
– There were some falls, but when you are young your bones are still rubber and nothing was broken, Matti casts his mind back to the start of this career and steers his bike towards the rocks in the middle of the wood.
It was the first time that I felt that now it has gone badly. I could feel it immediately.
I heard that the clavicle is a kind of fuse for cyclists. You cannot really call yourself a cyclist if you have never broken your clavicle. Matti became a cyclist five years after his mother's warning.
After the clavicle, it was time for surgery on a shoulder injury as well as numerous small sprains and muscle tears. The first major injury happened to be videoed when a jump Matti was doing went wrong and he came down the slope head first.
– I broke my back. It was the first time that I felt that now it has gone badly. I could feel it immediately. I could feel a real pressure on my spine, the ribs broke and my left leg was paralysed. The impact was so great, he just collapsed in a heap.
The injury was scary, but the three compression fractures of the vertebrae did not require surgery. There was no danger of paralysis either so after a thorough course of rehabilitation the left leg gradually began to function normally.
Matti was soon back on his bike hurtling down hills. And his career was heading upwards.
Usually someone has fallen off a roof.
We get to the top of the rocks and I notice long scars decorating both of Matti's wrists. They are reminders of an accident which happened in Australia, but was treated in Finland.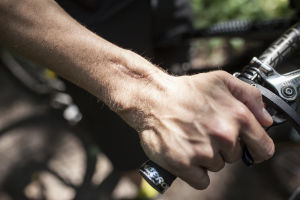 – In Australia, the doctors thought that the situation was not that bad. In Finland the specialist hand surgeon said that in a year he sees from one to three cases where the wrists are so damaged. Usually someone has fallen off a roof. All the bones were in pieces and in one hand all the ligaments were also snapped.
The operation went well and the injuries were also repaired using artificial bone. Later on the surgeon was coming from the opposite direction on a ski track and Matti was able to thank him for the good work he had done. Thanks to the operation and thorough rehabilitation, movement in his wrists is still good.
– Rehabilitation of my hands was painful. But if it doesn't hurt it isn't doing any good. The hand would still have been painful six months later if the rehabilitation had not forcibly expanded the range of movement of the wrist. Of course it hurt.
After the wrists, the shoulder was broken again and also the pelvis, but they healed without any operations. The new injuries had slowed down the cyclist's promising career, but in the summer of 2011 everything looked good.
In the autumn, Matti decided to take part in a few competitions because he "felt really good about it".
The helmet split on both sides and the chin protection was torn off. There was a compound fracture running across his face and his jaw was split into two pieces.
The bike shakes and rattles. The speed looks awesome as Matti plunges off the rocks down a small path. No-one could get down that unharmed. Seconds later, Matti comes into view again round a corner and asks whether he should ride that same stretch again.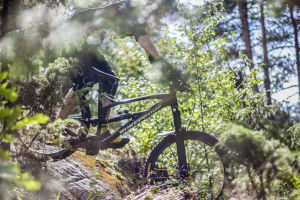 The Nordic Championships were organised six years ago in Sweden. The speed was terrifying then as well, but Matti rode the competition slope precisely. Suddenly the riding line went slightly to one side and a small bump threw the rear wheel into the air. Matti became a passenger, as the bike was already on its way towards a pine tree at full speed.
– The helmet split on both sides and the chin protection was torn off. There was a compound fracture running across his face and his jaw was split into two pieces. The upper jaw was hanging down, his nose was pushed in and his tongue was split. The eye ground was broken and his cheekbones smashed into pieces. Matti recalls his collision with the tree and shows his tongue which still has a long scar.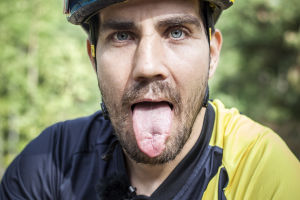 The collision was violent, but Matti stayed conscious the whole time. He was able to take his helmet off himself, but he could not speak because his face was so badly damaged. With every moment that passed, breathing became more and more difficult. His tongue swelled up against his palate, his nose was out of action and there was a lot of blood flowing into his mouth.
I remember when I took my last breath. The pain eased and everything went white.
Fortunately the first aid team arrived quickly and made a hole in his windpipe. Matti thinks that the immediate tracheotomy saved his life.
– I remember when I took my last breath. The pain eased and everything went white. The next memory is of the ambulance. I was lying on the stretcher and the floor of the ambulance was covered in blood.
The ambulance rushed Matti to hospital where they carried out major surgery and all of his face was put back together. A couple of days after the operation, a changed man woke up in the hospital bed, a man who was suffering intense pain and who could still not speak.
– It was hellish when the pain started after the operation. I had pieces of paper which read PAIN PAIN PAIN. The pain killers were really strong and I had horrible hallucinations where the nurses had lizard's heads and the ceiling of the hospital was covered with spiders and snakes.
When Matti saw himself in the mirror for the first time after the accident it was a great shock. Now that really is you in the mirror, even though the nose is still bent and there are scars here and there on the face.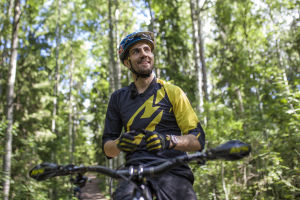 – One eye is bigger than the other, the left cheekbone is a little high while the right hand side has dropped a little. My nose is constantly blocked, there is a lot of metal in my face and the pain is still intense. Changes in temperature or a strong wind blowing into my face are really painful.
I did not try to kill myself, but I could not see any other alternative.
The external wounds healed, but inside, Matti was still doing badly long after the accident.
– I was in intensive care for a couple of weeks. A psychiatric examination is usually proposed after such a long period of care. A diagnosis of depression came soon after the accident and I went to see a psychologist regularly a couple of times a week. That way I was able to keep on the rails to some extent.
The total collapse came the following Christmas, when Matti travelled to the United States to visit a friend.
– I did not try to kill myself, but I could not see any other alternative. If there was a lorry coming from the opposite direction on the motorway, my only thought was to drive the car under it. Or if I was at the highest point in a shopping mall, I could only think of jumping off. Those kinds of really frightening thoughts.
Matti went to see his psychologist to talk about his scary thoughts as soon as he got back to Finland. A slow recovery got underway. Every summer Matti thought how mixed up he had been the previous summer.
– It was close on three years before I had really recovered. I was sailing aimlessly without setting course for three years, with my head completely mixed up. Mental problems are a major issue. I don't even want to think about what would happen to someone if they had problems and were unable to get treatment.
Now I understand why my mother was worried when I started downhill cycling.
Matti talks openly about his mental problems. Depression, post-traumatic stress caused by the accident, pain and several operations piled up on the shoulders of this top sportsman, and it was not possible just to brush them to one side.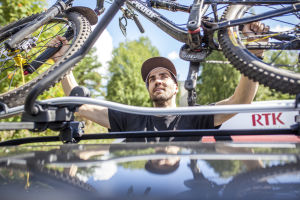 – Talking has helped. In the beginning I tried to bypass the issues, but then the house of cards collapsed and the whole pack spread everywhere. I understood that I had to talk in order to move forward. It is easier to talk than to take all the pressure on yourself.
The interview session is coming to its end and we return to the car. Matti announces that he became a father at midsummer. With the addition to the family, he had to buy a roof rack for the estate car because the bike would no longer fit inside. The little baby girl had kept the new father awake the previous night. Her stomach pains had only eased after a long massage.
How would Matti react if his daughter dreamed of a career in cycling in the future?
– Of course she is going to see a lot of bikes and equipment as cycling is a major part of our everyday life. I'll become one of those competition dads if she gets keen on cycling. Now I understand why my mother was worried when I started downhill cycling.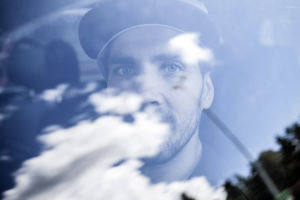 Matti's mother does not need to be so worried any more as downhill cycling has been replaced by endurance riding on mountain bikes. In this sport too we ride fast and sometimes come down slopes at speed, but serious accidents are rare.
During the summer Matti took part in a couple of competitions in his discipline and spent more time with his family. Matti gets into the car, closes the door and smiles through the glass. There seems to be a new order of priorities in his life now.
Translation: Paul McDonagh, Timothy Wilson (proofreeding).
Matti Lehikoinen:
@instagram
@facebook
@twitter
Akuutti – tutkittua tietoa terveydestä ja hyvinvoinnista. Rohkeita ihmisiä ja inhimillisiä tarinoita. Liity joukkoomme Facebookissa!