This is not just a title, but the name of a state-funded project by Tekes.
Immersive Media Disruption (IMD) is an initiative of industry and academic partners to advance the technology field of immersive media and Virtual Reality (VR). Yle, Nokia Technologies, Aito Media, University of Tampere and Tampere University of Technology have joined forces in this research project that focuses on the following areas:
New formats for immersive media storytelling
Immersive audiovisual technologies
Immersive content production and distribution
Immersive media user experience
New immersive media business models.
Key ingredients of this project are also pilots and trials. Last May the IMD project partners have successfully completed the first 360-degree recording pilot, using a multi-camera setup with Nokia OZOs and a complex audio set-up at the Helsinki Music Centre, during the Richard Strauss' Alpen Symphony performance of the Yle Radio Symphony Orchestra. An excerpt of the recorded content is available here.
A second pilot, Vanishing World, was produced by Aito Media during last August. This is a documentary series exploring different regions around the globe being affected by climate change. The first part of Vanishing World was filmed at the Great Barrier Reef in Australia. A short teaser of the first episode is available here.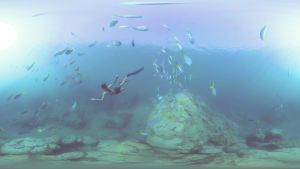 "Yle is very actively participating in various boundary pushing pilots and development projects. VR brings another level to media consumption experience. We want to learn how VR impacts production, workflows and end user experience. We are very happy with the cross-industry co-operation with Nokia, Aito Media and Universities of Tampere", says Janne Yli-Äyhö, COO of Yle, the Finnish Broadcasting Company.
"We are extremely satisfied of the synergistic results by this partners consortium, and the prospective impact that the IMD project may have at industrial, research and ecosystem levels", says Igor Curcio, Principal Scientist, leading this project at Nokia Technologies.
"Aito Media lives for stories. VR brings a new interesting platform in to storytelling, which will either support or challenge the traditional viewing experience", says Ilkka Hynninen, Managing Director of Aito Media.
"We are delighted that mainstream 360-degree video productions are now reality. This makes it possible to study their new possibilities, such as different ways to interact with 360-degree videos to maximize their user experience, states Professor Markku Turunen from University of Tampere.
"It's great to see algorithms and methods developed in the lab integrated in real systems used by professionals, now in the pilot phase but hopefully soon in real commercial systems", says Professor Moncef Gabbouj, leading the video research team at Tampere University of Technology.