Eija Moisala and Anne Hyvärilä: Better service and understanding of user contexts with new data
New ways to better understand the everyday lives of Finns have been under development at Yle for a long time. Qualitative research and user tests go hand in hand with analytics and machine learning in this work. We have been strongly developing analytics and enriching it in various ways, such as modelling age and gender, as well as making sense of user contexts.
Understanding Finns is not enough on its own; we also need a better understanding of content. We found a partner for Yle's Data&AI team in Fourkind. Together we have created completely new metadata about our content. When we get more in-depth information on our content we can also better understand the Finns who use it. Using the data, we can develop our online services, for example by providing more accurate recommendations.
Eija Moisala and Anne Hyvärilä from Yle's Smart data and audience insight team.
What have we done?
We have built a model – customer profile – that can be used to create new themes for nearly all Yle content. In the first stage, all content is turned into text form – articles are used as is, we transcribe our audio material, and for videos, subtitles are used. In addition, keywords connected with the content are included. All this generates a common mass of data that enables parallel analysis of different content types.
Raw text is cleaned, meaning for example words that are too general or too rare are deleted, and words are changed into their basic forms. After this, a search is done for one-, two- or three-word pairs that form features. A feature can be, for example "politics", "Donald Trump" or "latest govern session". The features are searched for abstract semantic entities, which are compared with a corpus of the 25,000 most common features. Using machine learning, it is possible to identify that, for example, "politics" belongs to the same entity as "Ministry of Justice". Here, we call these "clusters" or "themes".
Themes can be built on different levels: all content, videos only, or for just one programme type, such as current affairs programmes. Using themes, we can monitor which content types people are using in different user contexts (meaning at different times or on different devices) and which themes are interesting for different age groups. We can use this data, for example, to develop what kind of content should be available on Yle Areena and when.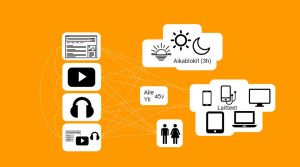 How can the themes be used?
The themes are used in different ways, for example, for development of mobile notifications for the Yle NewsWatch app. The benefits are immediately visible to users. In the future, the goal is to improve accessibility using recommendations in ways that make interesting content easier to find, regardless of whether it is text, video or audio.
Editors and other content creators can view the use of themes using various data visualisations. Themes are also used in the editor's assistant being developed, "Onnibot", which editors can use to find other articles that have been written on the subject of the article they are currently writing. Onnibot also generates an initial prognosis of how many times the articles will likely be read.
Development happens in agile cooperation throughout the organisation, e.g. Yle News Lab and Yle's news editors. The development work is being done in multi-purchaser teams. Team members participating in creating alerts for Yle NewsWatch include Fourkind and Reaktor, as well as Futurice for Onnibot, the creators of which are working as members of Yle's Data&AI team. Further information on new developments will be provided later by Yle's team members.
One example of using artificial intelligence in everyday work is customer profile. Projects like this help us at Yle to improve our services. Artificial intelligence is an important and essential part of Yle's future so that people can find content relevant for them from a massive amount of articles and programmes.
Eija Moisala is Head of Smart data and audience insight, and Business owner of Yle's Data&AI team. Anne Hyvärilä is Audience Insight Manager in Smart data and audience insight. Yle´s Data & AI team is a ten-person multi-purchaser team with data scientists and data engineers from partners including Reaktor, Solital and Fourkind. Product owner of Data & AI team is Jaakko Lempinen.