Felix Kersten's life story is unbelievable. Examine the stages in Felix Kersten's life through photographs and original documents. The Felix Kersten Files podcast is now available online.
In 1918, a young man born in Tartu is wounded in battle in Helsinki, and granted Finnish citizenship. He travels to Berlin, meets the mysterious Master Ko who specializes in naturopathic medicine, and ends up being the masseur for Nazi leaders even though he is not political at all. He eventually saves thousands of prisoners from concentration camps and execution.
This is Felix Kersten's story. But is it the whole truth? Who was Felix Kersten?
Felix Kersten's story has at least three possible beginnings. Is there a connection between the story told by Kersten and the two other men? This we do not know for certain.
The first of the three Felixes is the one known to us from his own memoirs. He is Heinrich Himmler's physical therapist and the forgotten Finnish hero about whom Arto Koskinen decided to make a documentary film in the late 1990's.
Felix Edward Alexander Kersten, born 30.9.1898, in Dorpat
Felix Kersten is an adventurer originally from Tartu who studies at the Jenfeld agricultural school in Holstein. He doesn't think of himself as German so he volunteers for a special forces unit comprised of Finns who are being trained in Germany. Kersten participates in the Finnish civil war on the side of the Whites, and is wounded in Helsinki in the spring of 1918. For his service in the war, he receives Finnish citizenship. In his memoirs, he doesn't mention his German citizenship.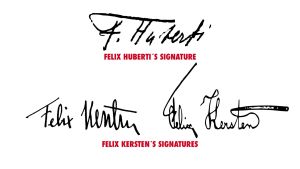 Fidus Felix Huberti, born 24.9.1897, Leipzig
Felix Huberti is a German youth who studies medicine. He must make due with serving on the homefront, because two of his brothers have already died in the war. Huberti becomes a medical officer and is promoted to second lieutenant.
Huberti joins the German Freikorps, whose goal is to prevent communist and Bolshevik activities. In March 1919, he is charged with the political murder of seaman Karl Meseberg in Halle, Germany. When a warrant for his arrest is put out in his hometown, he runs and hides for good.
Huberti's childhood friend, Erich Neuss, misses his socially adept, outgoing and charismatic friend with whom he did nature hikes. Neuss later identifies Huberti as Felix Kersten. Neuss's son, Werner Neuss, writes a biography of Felix Kersten, "Menschenfreund und Mörder", in 2010.
Felix Edward Alexander Kersten, born September 30, 1898, Dorpat
Felix Kersten is born into a middle-class family in Estonia. He goes through confirmation in 1915 in the prayer room of an institution for troubled youth near Hamburg, Germany where they teach agriculture among other things.
On September 15, 1917, Kersten joins the German army as a private and serves in Halle among other places. He ends his service in Tartu in December 1918. After this, there is no information on him.
On April 15, 1919, a man named Felix Kersten joins the Pohjan Pojat regiment in Estonia and is entered into the books as a second lieutenant. He is discharged to Finland along with the Pohjan Pojat military unit in June 1919.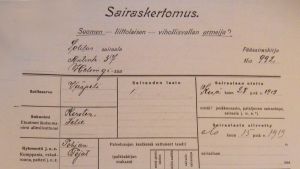 According to his service records, Felix Kersten is a second lieutenant who participated in an officer course in the German army, and has served in the Germany army from 1914 to 1918. He fought on numerous fronts in Europe and the Middle East, and on November 7, 1919, he joins the Häme Cavalry Regiment in the Finnish army.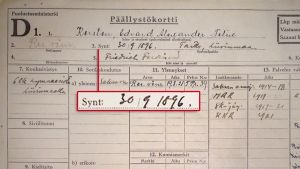 Felix Kersten is granted Finnish citizenship in April 1920 even though he has been in Finland less than a year. According to the National Police in the city of Tampere, he was given recommendations by high ranking officials such as Commander Suolahti of the Civil Guard in the Häme province and Colonel Hans Kalm, commander of the Pohjan Pojat military regiment.
Or did Kersten come to Finland earlier than that, already in 1918? This is mentioned in documents in The National Archives of Finland. However, in an interview at the Finnish Defence Forces Command headquarters, in 1922, Kersten admits that he came to Finland in June 1919.
At the end of May 1920, Felix Kersten leaves the army and joins the Civil Guard in the town of Ikaalinen where he gets to know the Pohjanpalo family over the summer. Kersten begins dating Kerttu Pohjanpalo and later moves in with the family at their Helsinki home. In his memoirs, Kersten has said that he attended medical lectures at the University of Helsinki. "There is no documented proof of this at the university", Arto Koskinen points out. According to Kerttu's brother, Jorma Pohjanpalo, Kersten was often at their home without anything to do and massaged their mother Inni's neck as she suffered from migraines. His massage instructor was Doctor Paul C. Colliander, who specialized in a certain type of nerve stretching and had treated Inni.
In January 1922, a document forgery is mentioned in interview minutes at Finnish Defence Forces Command headquarters. Second Lieutenant Felix Kersten of the army reserves had tried to speed up his promotion to lieutenant. He is also said to have handed out business cards that made him out to be a nobleman.
Felix Kersten, now penniless, travels from Finland to Germany in February 1922.
Felix Kersten spends a couple years doing odd jobs in Berlin. His landlady's daughter is Elisabeth Lüben who becomes Kersten's confidant, and later also his secretary and housekeeper.
In 1925, Felix Kersten opens a massage therapy business in an upper-class neighbourhood in Berlin. He quickly gets members of the German elite as clients, having inherited many of them from the mysterious Master Ko who he identifies as his teacher.
Queen Vilhelmiina invites Felix Kersten to tend to her husband, Prince Henrik, so he moves to Holland in 1928.
Eight years later, in 1936, Kersten buys the Gut Hartzwalde farm, which is over 300 hectares, in Brandenburg, near Berlin. However, he still lives in Holland.
August 7, 1937. A wedding! Felix Kersten marries 27-year-old German Irmgard Neuschäffer. He becomes a father the following year and the couple has three boys. His wife and children live at Gut Hartzwalde.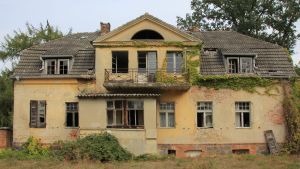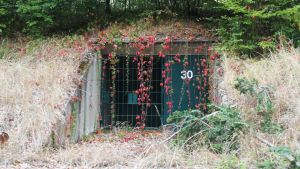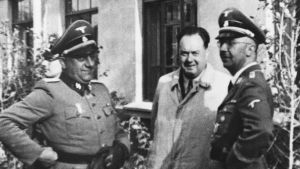 According to national medical records, in February 1941, Felix Kersten was "Arzt f. Naturheilkunde", a member of the SS, and he had two children. His city apartment in a good neighbourhood of Berlin is listed as his mailing address, and the SS headquarters is listed as his work address. (Document gathered by Arto Koskinen, Bundesarchiv, Berlin.)
May 31, 1941, Felix Kersten gets a signed order from Schöppe, chief of the security police, to move immediately and permanently from Holland to Berlin. He is allowed to bring with him only his personal effects. Kersten gives up his home in The Hague and focuses on Himmler's welfare. He also gives massages to other Nazi leaders such as Walter Schellenberg, Joachim von Ribbentrop and Rudolf Hess.
Felix Kersten organized Heinrich Himmler's trip to Finland, which took place in July-August 1942.
Medical Councillor Kersten
Felix Kersten who was taught by mysterious, Tibetan Master Ko is awarded the title of Medical Councillor on November 21, 1941, by the President of Finland, Risto Ryti. From then on, Kersten uses the stamp "Medical Councillor Felix Kersten" in his letters.
On his visit to Finland the following year, Kersten also receives a commander's medal from the Order of the White Rose of Finland.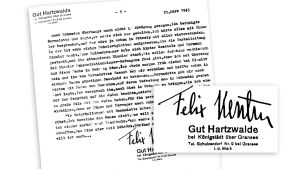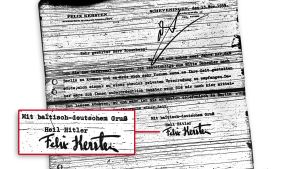 In August 1942, Kersten asks Minister of Foreign Affairs Rolf Witting by letter if the Finnish government has anything against him joining the SS. According to Witting's response, Finland had no objections. (Document gathered by Arto Koskinen, Ministry of Foreign Affairs of Finland.)
On April 19, 1945, Felix Kersten escorts Norbert Mazur, Swedish representative of the World Jewish Congress, from Stockholm to Berlin to negotiate with SS Commander Heinrich Himmler on saving thousands of people from the concentration camps. During the "White Buses" operation Kersten also acts as the contact between Himmler and Swedish Count and Director of the Red Cross, Folke Bernadotte. In the operation at least 19,000 prisoners were freed from concentration camps (Swedish Red Cross report Vita bussarna, 2000).
According to "Himmler and His Finnish Buddha" (2018), a book by the non-fiction writer Tapio Tamminen, Bernadotte got to talk with Himmler because of Felix Kersten. When Hitler's plan to detonate a concentration camp was not carried out, Kersten indirectly saved up to one hundred thousand people.
On April 25, 1945, a Swedish Red Cross white bus saves German staff members at Kersten's estate Gut Hartzwalde? This is asserted in "Zodiac and Swastica" (1968), the memoirs of Himmler's astrologist, Wilhelm Wulff. In the book, Wulff recounts how the convoy was attacked by Allied fighter planes on the road to Schwerin, killing Swedish staff and prisoners. In a Swedish Red Cross report from the year 2000, the same attack is mentioned, but it doesn't say that the convoy was coming from Gut Hartzwalde.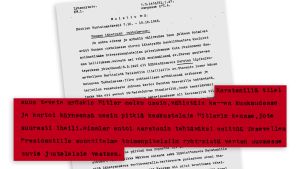 In 1950, Felix Kersten is awarded Holland's highest award, the Order of the Orange-Nassau. According to Kersten, he prevented the forced deportation of millions of Dutch people to eastern Poland. However, Louis De Jong, who has studied the matter, says that there was no danger of deportation.
In a passport application attachment dated October 18, 1955, the Ministry of Foreign Affairs in Finland is told that "Mr. Kersten has continuously maintained that his nationality is Finnish, but has said that the Swedish government has notified him that he could be granted Swedish citizenship any time he asks for it, as a reward for his humanitarian actions". He is eventually granted Swedish citizenship in 1953. (The National Archives of Finland)
During the 1950s, Felix Kersten is recommended in Holland to receive the Nobel Peace Prize four times.
The timeline is based on the material gathered by Arto Koskinen. Other sources: The National Archives of Finland, Jorma Pohjanpalo: Onpahan eletty (WSOY, 1974), and Tapio Tamminen: Himmler and His Finnish Buddha (Atena, 2018)
English translation: Timo Puolitaipale