Our latest strategy was completed in the autumn of 2017 and will be in effect until the end of 2020. You can find our strategy here.
A strategy can be understood in many ways, but usually it is the company's way to explain what it wants to achieve and how.
However, the strategy is not completed at once; it is an ongoing process at Yle.
We observe the world around us in many ways and prepare for the future. We draw conclusions on the observations and analyses and envision how all this may impact Yle. We want to figure out how we could serve our audiences and the Finnish society better.
We are already working hard for our next strategy. We want to foresee what the public broadcasting of the next decade should be built on. What should be added? What should be omitted?
A hundred years ago, public broadcasting aimed to inform, educate and entertain.
Is this still good? Is it enough?
These are also among the questions we ask ourselves and you - our audience - in our continued endeavour to make Yle even better.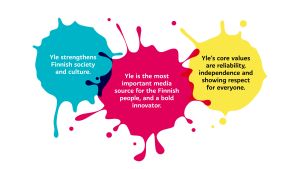 Yle's mission, vision and values
Mission: Yle strengthens Finnish society and culture.
Vision: Yle is the most important media for the Finnish people, and a bold innovator.
Values: Yle's core values are reliability, independence and showing respect for everyone.
Focus areas: the centre of our attention in 2019
15–29 y/o <3 Yle
Our mission is to serve audiences of all ages. Our reach among the older population is good but we still have work to do in order to make our contents attractive for our viewers, listeners and readers in the under 30 age group. Fortunately, recent surveys show that our success in this has been slightly better.
More live programming and presence: Yle is seen, heard and felt
Yle needs to be where our audiences are and where all the action takes place. Naturally, this means both physical and digital presence.
Yle listens to, discusses with and engages people.
When something extremely interesting happens, we broadcast it live.
Explaining the world better
We need to increase our audiences' understanding of the world, Finland, and each other. This is a goal that we will never stop pursuing.To do this, we have a number of ways – ranging from journalism to drama, from comedy to reality TV.
Increased and more innovative, new forms of audio
We are pioneers in the development of audio. New audio contents depend less and less on the devices or channels through which radio is listened to. Podcasts are becoming more popular.
Voice control and virtual assistants may revolutionise the use of digital services and the audio content more than we currently realise.
A better Yle just for you
Yle produces a large volume of broadcasts, programming and stories every day. Appropriately targeted personalised recommendations by us may make it easier for everyone to find content they like and may also offer pleasant surprises.
Many services take shape based on the personal preferences of users and the services are customised based on the user's location or interests. The media services are no exception.
We try to offer the right content to the right user and do so at the right time, through the right device and in the right location. To do this, we need information on how our audiences in Finland use our services and contents.
No one is forced to provide us with this information; it is perfectly acceptable to remain anonymous and instead spend time discovering what one likes.