Among the wide variety of positions at Yle, the most common is that of a journalist or an editor. The title includes online, social media and media editors. They account for one third of the entire personnel. The second-most common job title is that of a producer.
Our personnel include top experts in various fields, such as cameramen and -women, designers, commissioning editors and lawyers, engineers, digital developers, programmers, and a large number of musicians, like FRSO's violinists and trombonists.
Many job applicants have a Master's degree, and several of our positions require diverse skills. For example, in the regional radio channels, the journalists record and edit their stories themselves and convert them into formats suitable for broadcasting on the radio, television and online.
Yle offers versatile career paths, since the company provides extensive internal training and development opportunities and employees are encouraged to participate in job rotation programmes.
We also work with artificial intelligence! Our colleagues include our robot journalist Voitto (Victory) and Ylermi, which is learning the ropes of the lobby services (on Twitter @YlermiR).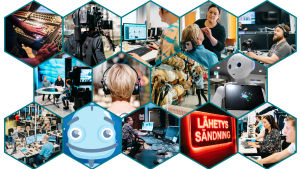 Extensive recruitment of talent in different fields
In 2018, our recruitment mostly targeted journalists and editors in different fields, including media and online editors. Digital skills and programming experience are increasingly important in the work of an editor.
We also recruited producers, hosts and technical production professionals, as well as financial, programme acquisition, communications and HR specialists.
The number of new employment relationships that started in 2018 was 162. Of the new employees, 69 per cent were hired for positions directly linked to contents. Read more about other personnel key figures.
In January 2019, we participated in the Contact Forum recruitement fair, where we met hundreds of university students majoring in information technology, the media sector, and translation. Yle's experts were asked for tips concerning he selection of minor subjects in the studies. The Voitto robot was also available to meet and greet visitors at the fair.
Read more about work in Yle
Read more about Yle's development team in the News and Current Affairs operations and Sports.
Interested?