Kiki, who lived a fairly independent life back in Eritrea, has to leave everything behind, when she is confronted with a life-or-death situation after helping a family member. The only way out is by leaving the country. The role of Kiki, in a tv series that has the backdrop of human trafficking and the refugee crisis, is very relatable to Evelyn Rasmussen-Osazuwa, who stars in the series.
"We should challenge our attitudes towards refugees. I was born in Norway, so I didn't have to flee my home country, but I know several people, who did," says Evelyn Rasmussen Osazuwa, who plays the main character in "Cargo". The tv series is scheduled to air in the autumn of 2021.
Osazuwa's father is from a tiny village in Nigeria and her mother hails from the north of Norway. They met and fell in love in Oslo, and decided to settle in Norway. Even though Rasmussen Osazuwa was born in Norway, she has frequently confronted prejudices as an actor, sometimes in the most egregious ways.
"The number of roles offered to people, who aren't ethnically Norwegian is very limited," says Rasmussen Osazuwa.
After graduating she was offered roles that portrayed stereotypical black individuals, either criminals or sex workers. The roles were also fairly lacking in lines.
"I might have agreed to play the roles, if the story had been any good," Rasmussen Osazuwa continues.
The first role, where her skin color didn't play a part, was in one of the longest running tv series in Norway "Hotel Caesar". It enabled her to fulfill a long time dream of playing an ordinary young person, living a normal life, and not be a stand-in for something else.
But how did she end up playing an Eritrean refugee?
The idea was to concentrate on the notions that we, as human beings, have in common, instead of the ones that divide us.
"Cargo" is a social thriller/drama set in the world of international human trafficking. It depicts a world, where greed, violence and exploitation overlay hope, dreams, and a constant fight for survival. According to the director and writer of the series, Matti Kinnunen, the subject matter and its themes are universal.
"The idea was to concentrate on the notions that we, as human beings, have in common, instead of the ones that divide us. All humans have an attachment to home, friends, and loved ones no matter where we live. Realizing that, is the first step on the path to empathy, and a prerequisite in understanding what it means when those things are wrested from us," observes Kinnunen.
Hundreds of thousands of refugees enter Europe each year, borders are getting more and more heavily guarded, and because there are no legal ways to enter, refugees are forced to turn to smugglers. Approximately 90 per cent of the refugees arriving in Finland have been smuggled into the country. Since a single refugee pays about 10 000 to 15 000 euros for the privilege, the total revenue of human trafficking to Finland is over 30 million euros.
"Economic inequality is the number one scourge in the world. After working on the series, I'm even more frustrated that it is tolerated, as if it was a force of nature or in any way acceptable. But that's the attitude, not just globally, but in most countries, Finland included," says Kinnunen, clearly upset.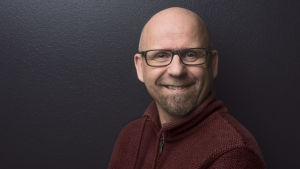 After reading the script to "Cargo", Rasmussen Osazuwa felt a connection to the story which centers on Kiki, who used to live a normal life.
"Kiki runs her own cafe back home. She has a family, a husband and a daughter. But then she is swept away by events beyond her control, and has to flee," Rasmussen Osazuwa recounts.
In order to get a better understanding of Kiki's story Rasmussen Osazuwa interviewed Eritrean refugees. It proved more challenging than she expected, because the refugees were deeply worried about their own safety and that of their family members.
"Eritrea has an authoritarian government. It wasn't easy to find people willing to tell me about their experiences, even if they don't live there any longer. They often still have family members in Eritrea. And they might get into trouble, if their refugee relatives weren't careful," says Rasmussen Osazuwa.
Kiki, who lives a fairly carefree life back home, considering the circumstances, doesn't plan on leaving until a family member asks for help and inadvertently places the entire family in mortal danger. This is typical for many refugees.
"Most people leave knowing that they cannot return, but very few can think of a terminus, where they would be welcome," says Kinnunen.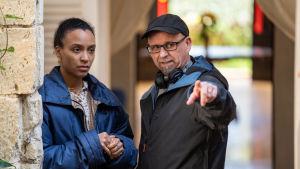 After Rasmussen Osazuwa got fed up with the fact that she was offered only stereotypical black woman's roles, she started writing herself. In order to tell her own story she began writing spoken word, which is performed publicly on stage. Baring oneself in words in front of a live audience is an intimate setting where one's background doesn't matter, only the story matters.
"It feels good to present your story on the stage and let the audience decide whether they like it or not. The audience is a bit like a miniature version of society, which television programs and movies often fail to depict properly."
When the third play that she wrote premiered at the National Theatre in 2018 the underlying themes in Rasmunssen Osazuwa's stories became clear.
"I'm writing about different types of love; love towards your partner, your parents, yourself or society. I may frame it as a story about a bad date or climate change, but the theme is usually love.
Love is also the underlying thread in her role in "Cargo". Her character is forced on a difficult path because of love, her action to help a relative. And in the midst of it all, her driving force is love.
"Yes, I guess everything she does is because of love."
Noora Kulta,
freelancer
Pekka de Groot,
translator
Cargo is coming to Yle canals in autumn 2021.
Production company: FremantleMedia Finland Oy, executive producer/FremantleMedia Finland Oy: Kirsi Hatara, producer/FremantleMedia Finland Oy: Rea Dominicy, producer/Yle: Matti Kajander