We take the environment into consideration in energy consumption, travel, procurement and sorting of waste, among other things.
Yle has had an environmental responsibility programme in place since 2009. The programme aims to promote environmentally friendly practices, ranging from increased effectiveness of energy use to more sustainable use of natural resources and recycling.
The environmental effects of electronic media are mainly related to the energy consumption of buildings and technological systems and equipment needed for programme operations as well as work-related travel by personnel by air and car.
In 2017–2020, we pay special attention to reducing emissions generated by the use of energy and by travel, as well as to more efficient waste management and recycling.
In addition to the environmental benefits, energy savings, resource-efficiency and wise transport choices will generate cost savings.
The downsizing of Yle's facilities and the more efficient use of space as well as technical building system renovations have improved energy and environmental efficiency in Yle Centre in Pasila; Helsinki and at the Mediapolis Creative Centre in Tampere and in the regional editorial offices, such as Turku and Vaasa. In Pasila, the goal is to decrease the facilities by 40 per cent by 2020, which will further lower our energy consumption.
As part of our responsible operations, we will continue to invest in energy-efficiency when changing and renovating our facilities. A new energy-efficiency plan including measures ranging from building maintenance to the procurement of energy was prepared in 2017. It is monitored by the energy steering group that convenes four times per year and also includes an external energy specialist.
We work to reduce traffic emissions by applying the environmental criteria in vehicle purchases and our travel policy.
Our goal is, among other things, to reduce the emissions generated by air travel by increasing video conferencing and preferring public transport whenever possible for the task at hand. The need for travel is reduced by new methods of flexible working, such as remote work.
We encourage our personnel to make environmentally friendly choices in their daily work and also expect our partners to comply with the environmental principles.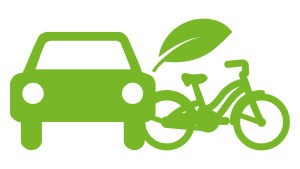 Key figures of environmental responsibility
Energy efficiency
Energy consumption covers the properties owned by Yle in Pasila, Vaasa and Kuopio. Monitoring data is not available for all leased properties. The Yle Center in Pasila accounts for more than 90 per cent of Yle's environmental impacts.
The energy consumption of the properties owned by Yle decreased slightly at the Mediapolis Creative Centre in Tampere but increased in Pasila, Helsinki (5%), Vaasa (4%) and Kuopio (3.7%). The company has divested its facilities in Inari (in Lapland).
In Pasila, all properties use environmentally friendly district cooling. In connection with changes made to facilities, more energy-efficient solutions concerning lighting and building services engineering have been installed.
LED lighting is used in the renovated activity-based offices, outdoor areas and studios, whenever possible. For example, lighting in the renovated Creative House in Pasila is controlled by means of daylight sensors, presence detectors and motion sensors to prevent unnecessary use of the lighting.
The total electricity consumption has been declining since 2007. In 2007, the consumption was 34.6 million kilowatt hours, whereas in 2018 the total consumption was slightly less than 25 million kWh.
Water consumption
Water consumption in Pasila totalled 22,853 litres in 2018. The decrease from the previous year was nearly 16 per cent. Water consumption has decreased as a result of, among other things, district cooling, which has replaced the old cooling system that consumed a lot of water.
Consumption of copy paper
Consumption of copy paper in 2017 was 7,249 reams, or more than 3.6 million sheets. That amount is 25 per cent less than in the previous year. Electronic tools and archives have reduced paper consumption considerably and it is now less than half of the consumption in 2008. Figures for 2018 will be specified later.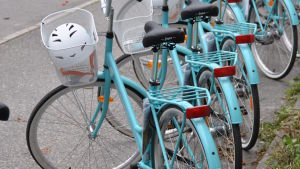 Transportation
We work to reduce the combined CO2 emissions of vehicles by a minimum of 30 per cent by 2020. The goal is for the average emissions limit of passenger cars used at Yle to not exceed 125 g/CO2/km in 2020.
At the end of 2018, Yle had 266 vehicles, 205 of which were passenger cars. The average specific emissions of passenger cars were 139.5 g/CO2/km, showing a decrease of 10 per cent compared to the previous year. The company has 30 environmentally friendly hybrid cars, which equals slightly less than 20 per cent of the fleet.
In addition, Yle offers 20 turquoise Yle bicycles, which employees may use for work-related rides, such as travelling to interviews.
The total emissions of work-related air travel increased by 20.4 per cent from the previous year. The use of taxis in work-related travel declined further (by 6.2 per cent), but the use of employees' own cars increased by 4.4 per cent
Travel by Yle employees in 2018 (2017 in parentheses):
By air, 12.5 million kilometres (10)
By Yle's vehicles, 2.6 million kilometres (2.8)
By private car, 620 thousand kilometres (600 thousand)
By taxi in Finland and abroad, a total of 369 thousand kilometres (394 thousand)
Waste and recycling
We have improved the effectiveness of waste sorting and recycling at our offices.
The amount of waste generated at the Pasila office was 544,550 kg, which is slightly less than in the previous year (568,030). The fluctuation in the amount of waste is attributable to the construction work being carried out. For example, renovations increase the generated amount of construction waste and mixed waste reused for energy.
There is a well-functioning recycling system in place for equipment and office furniture. Nearly half of the office supplies have an environmental certification.
Yle's total emissions in 2018 amounted to 10,018 tonnes of carbon dioxide (9,924).
The emissions calculation is based on the climate counter developed by WWF Finland and its partners, as well as on the GHG Protocol.
The calculation includes the energy consumption of the properties owned by Yle in Pasila (Helsinki), Vaasa and Kuopio, the electricity consumption, air travel and car travel of the Mediapolis Creative Centre in Tampere, and waste generated in Pasila.
We are part of the Green Office environmental system
Our offices comply with the WWF Green Office environmental system. The goal is to reduce the size of our carbon footprint.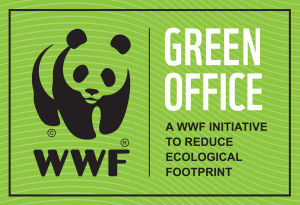 We are a Climate Partner member
We are a member in the Ilmastokumppanit (Climate Partner) network of companies or businesses cooperating with cities and working to mitigate their climate impact.
Our climate objectives for 2017–2020 are:
Energy – we will reduce energy consumption in the properties owned by Yle by 5 per cent from the 2016 level.
Traffic – we will reduce the emissions of Yle's vehicles by 30 per cent from the 2016 level.
Waste – we will reduce the amount of waste at the Yle Center in Pasila by 15 per cent from the 2016 level.
Environmental steering group
Environmental work at Yle is supported by its environmental steering group, which convenes two to four times per year and consists of supervisors from different areas of responsibility. Yle's Director of HR, Communication and Strategy represents the Management Group in the environmental steering group.
Environmental themes in Yle's contents
Yle's most significant method of impacting environmental awareness is through its programming content. We offer the widest variety of nature and environmental programmes on television, on the radio and online in Finland.
In addition to nature programmes, current affairs programming and documentaries also provide background information on how environmental matters are linked to the mechanisms of the economy.
Current affairs programming highlight ecological choices from the consumer's perspective. By offering background information and diverse perspectives, we can promote sustainable development and an understanding of complex phenomena and the methods of resolving environmental issues.