Environmental responsibility in 2020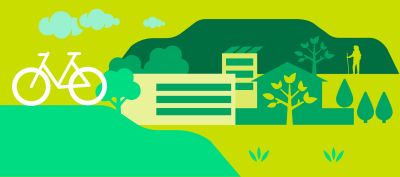 Yle promotes the objectives Finland has set in becoming carbon neutral by 2035. 
Yle reduces the amount of generated waste, operates in an energy-efficient manner, reduces the harmful impacts of its transports, and develops the circular economy. 
Yle has had an environmental responsibility programme since 2009. It helps us promote environmentally friendly practices, such as energy efficiency, sustainable use of natural resources, and recycling. 
We encourage our personnel to make environmentally friendly choices in their everyday work, and we also expect our partners to comply with our environmental principles.

In order to reduce Yle's carbon footprint, our offices follow the WWF Green Office environmental management system. We are also a member of the Climate Partners network.

Environmental work at Yle is supported by the environmental steering group, which convenes two to four times per year and includes representatives from Yle's various areas of responsibility. Yle's Director of Technology represents the management group in the environmental steering group.
The energy steering group monitors the implementation of the energy efficiency plan from 2017. The group also includes an external energy specialist. 
Environmental objectives for 2020–2022:
Yle will switch to using carbon-free energy. Carbon-free energy make up 50% of Yle's total energy use by 2022. 

Yle will reduce carbon emissions caused by travel (private cars, taxis, air travel) by 20% compared to 2018.
Yle's Environmental Goals At a Glance 2020
Since baseline year 2018 we have reduced
CO₂ emissions 23 %
water use in Pasila campus 34 %
emissions from travel 50 %
energy consumption in our property 17 %
consumption of copy paper 31 %
The environmental impacts of electronic media are primarily related to the energy consumption of premises and the technical systems and equipment needed in buildings and broadcasting activities as well as flights and car travel of the personnel during working hours.
Energy savings, resource efficiency and smart transport choices will generate cost savings as well as environmental benefits.
Reducing the number of premises, improving the efficiency of Yle's facility use practices, and the renovations to Yle's technical building systems have helped improve energy and environmental efficiency in Pasila, Tampere's Mediapolis complex, and regional editorial offices, such as Turku and Vaasa. 
Energy efficiency
The energy consumption numbers cover the properties owned by Yle in Pasila, Vaasa and Kuopio. Monitoring data is not available for all leased properties. The Yle Centre in Pasila accounts for a significant share of Yle's environmental impacts, more than 90%. The office area in Pasila has been reduced by more than 40% since 2016.
Energy consumption in properties owned by Yle decreased somewhat in Pasila, but increased slightly in Vaasa and Kuopio. The premises in Kuopio are not used for Yle's own activities. 
All electricity procured in 2020 was produced with renewable biofuel. 
In Pasila, all buildings are connected to an environmentally friendly district cooling network. During the refurbishing of facilities, more energy-efficient lighting and building services engineering solutions have been installed. An energy efficiency plan has been drawn up for the main buildings on the Pasila campus. 
New multi-space offices, outdoor spaces, and studios standardly use LED lighting. For example, passages and stairways leading to the parking garage are illuminated with LEDs. Each lighting system also uses daytime, presence and motion sensors whenever possible to ensure that lights are on only when necessary. New charging stations for electric cars have been added to the Myyrä underground parking facility.
There has been a decline in total electricity consumption since 2007. In 2007, consumption was 34.6 million kilowatt hours, and in 2020 this figure was 20 million kWh in total.
Water consumption
In 2020, water consumption in Pasila totalled 15,000 cubic metres. The effect of the coronavirus pandemic was clearly evident in water consumption: it is almost 40% lower than in the previous year. Yle's overall water consumption has decreased significantly since 2015.
One factor reducing Yle's water consumption is the  district cooling system, which replaced the old water-intensive cooling system.
Copy paper consumption
Copy paper consumption in 2020 was 3483 reams, or more than 1.7 million sheets. Paper use at Yle has been declining for several years, and consumption has halved since 2016. Modern working methods and new tools have significantly reduced paper consumption.
Travel, traffic and vehicles
We strive to reduce our traffic emissions by applying our environmental criteria in our vehicle procurements and travel policy.
Our goals include a reduction in air travel emissions by increasing the use of video conferencing and using public transport whenever possible in work-related travel. New ways of flexible work, such as remote work, have helped reduce travel needs..
At the end of 2020, Yle had 258 vehicles, 204 of which were passenger cars. The average CO2 emissions from vehicles decreased by 6.2% from 2016. 33 of our vehicles are environmentally friendly hybrid cars.
The objective of Yle's vehicle procurement policy is to switch to clean vehicles compliant with the EU-directive. In it, clean vehicles are defined as vehicles with maximum CO2 emissions of 50 g/km by the end of 2025 and 0 g/km after 2025. The directive objectives will be met within the required timeframe.
In addition, Yle employees in Pasila have 20 turquoise Yle bikes at their disposal.
The effects of the COVID-19 pandemic were evident also in the amount of work travel, which was only a fraction of the usual. This was particularly true in the number of flights during the year. 
Travel by Yle employees in 2020 (2019)
by air, 115 thousand kilometres (11 million)

by Yle vehicles, 2.1 million kilometres (2.6)

by private cars, 566 thousand kilometres (603 thousand)

by taxis in Finland and abroad, 181 thousand kilometres in total (337 thousand)

by trains, 661 thousand kilometres (2.3 million) 
Waste and recycling
We have improved the effectiveness of waste sorting and recycling at our offices. Yle's offices in Pasila generated a total of 319,970 kg of waste (2019:  406,640). The fluctuations in the amounts and types of waste were influenced by the ongoing construction work at the Pasila campus. For example, renovations increase the generated amount of construction waste and mixed waste reused for energy.
Emissions
Yle's total emissions in 2020 amounted to 7733 tonnes of carbon dioxide (in 2019: 8,965).
The greenhouse gas emissions in the figure have been calculated as carbon dioxide equivalents (CO2e). The emissions calculation is based on the climate calculator developed by WWF Finland and its partners, as well as on the GHG Protocol.
The calculation includes the energy consumed by Yle's properties (Pasila, Vaasa, Kuopio), the electricity consumed in Mediapolis, air and car travel, and waste generated in Pasila.