Responsibility for people in 2020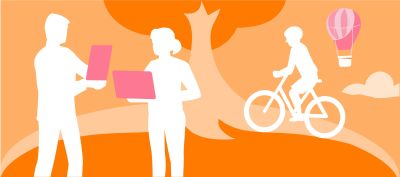 The impacts of the COVID-19 pandemic on Yle's operations
2020 was marked by the exceptional situation caused by the coronavirus pandemic. After the onset of the pandemic, Yle began broadcasting the live press conferences held by Government officials and authorities, and it also offered its broadcast signal for the use of other media channels. In addition, Yle began broadcasting special news bulletins on TV, radio, and Yle Areena online streaming service, and it also opened a chat service for citizens concerned about the coronavirus pandemic. 
Yle introduced a new service, a continuously updated COVID-19 news article which was viewed for around 1.4 million hours and accessed 48 million times in total. In a global ranking by the international media analytics company Chartbeat, Yle's article was the 8th most engaging continuously updated article in the world. 
In addition to Finnish and Swedish, Yle provided information on the coronavirus situation in sign language, plain Finnish, Sámi, Russian and English. In spring, Yle added Arabic, Kurdish, Somali and Persian to its selection of languages so that it could reach as many language groups in Finland as possible. Yle also relayed the public bulletins provided by the Finnish Institute for Health and Welfare on the radio and on television, both in Finnish and Swedish. 
Yle's good level of digital readiness ensured a smooth continuation of operations during this exceptional situation, allowing for its personnel to flexibly transfer to primarily working remotely.  Active communication helped ensure the efficiency and safety of all Yle operations in different tasks. All functions vital to Finland's security of supply continued to operate at a normal level. 
Independence and the promotion of freedom of expression
Yle operates independently from any external sources of influence.

Yle promotes the responsible exercise of freedom of expression and media literacy in collaboration with its partners. 
Independence and the promotion of freedom of expression remain at the core of Yle's public service duty.  We embrace these values in all our activities.
Yle's editors-in-chief (EICs) are responsible for all publishing decisions. This guarantees that all Yle contents are produced with the freedom of expression and independence provided by the Act on the Exercise of Freedom of Expression in Mass Media. In addition, Yle's publication activities follow the Guidelines for Journalists and Yle's Ethical Guidelines for Programme Operations and Contents. 

Yle's EICs regularly meet to monitor any factors that could jeopardise Yle's independence. All such factors are then duly reported to Yle's Board of Directors. Yle's level of independence is also guaranteed with other content-related guidelines, the contents of which are reviewed on a regular basis. At the beginning of 2020, Yle's EICs published a guideline for safe interaction that is applicable to all Yle activities. 
The external report on Yle's independence, which was commissioned by Yle's Board of Directors and EICs, was completed in January 2021. The aim of the report was to evaluate the potential threats from external sources of influence and pressure to the independence of Yle's content production and publication activities. The report found i.a. that Yle's journalists are subjected to increasing levels of harassment, pressure and targeted attacks on social media. The report recommended that Yle create uniform operating models that will help journalists and editorial offices operate on social media. Yle's EICs have initiated the development process for the operating models. 
Yle's EICs also decide on Yle's participation in societally significant collaborative journalistic projects. In 2020, Yle participated in the Viha ja julkisuus (Hate and Publicity) survey, which studied hate speech that aims to influence decision-making in society and how extreme opinions and hatred are expressed online. The study was carried out by Tampere University and the University of Helsinki.  The survey, which was part of the project, was sent to Yle's journalists, cinematographers and other content personnel. 
Read more: Yle's operating principles
Accessibility in Yle services
Yle promotes equality by increasing the accessibility of its TV, radio and online services. 

Yle aims to become a pioneer in accessibility in Finland.

Accessibility refers to the services produced for Yle's customers, such as audio descriptions, plain and sign language services, voice subtitling, subtitling for the hard-of-hearing and hearing impaired, and the accessibility of online services, as well as the accessibility of internal services for Yle personnel.

Yle supports the equal opportunity of the entire Finnish population to participate in civic activities, social discourse, and experiences that unite the nation. We promote equality and diversity in our operations, and we also require our partners to commit to our values.

We encourage our personnel to develop their accessibility-related expertise in a versatile manner and to increase their understanding of the significance of accessibility.
Responsible collaboration and partnerships 
Yle promotes the vitality of the sector by engaging in diverse collaborative initiatives with other actors in the media sector. 

Yle promotes responsible operations in the sector.
Collaboration in the fields of culture and technology and with educational institutions 
In addition to content projects, we also collaborate extensively with partners in the development of distribution and technology solutions. We also work together with cultural institutions, educational institutions, higher education institutions, and various organisations. Our objective is to promote the vitality of the increasingly digital creative sector and develop competence and innovation, as well as to accelerate international success through new content projects.
An example of this type of new strategic partnership is the agreement concluded with the City of Tampere and its higher education institutions in the autumn of 2020. This collaborative partnership includes the development of new forms of future journalism and storytelling, media education, digital learning environments, and digital interaction. 
Societal content projects
We carry out extensive social content projects which seek to engage the Finnish public and discover solutions to topical, urgent questions, in collaboration with different parties. These types of projects include the Hyvin sanottu – Bra sagt (Well Said) project, which seeks to promote a constructive conversational culture and includes more than a hundred Finnish partners. Its goal is to increase mutual understanding by creating new kinds of opportunities for encounters and joint discussions between different people. 
We have partnered with a multitude of campaigns that seek to promote the common good. We work with national and regional non-profit organisations to help those who are most in need. While we cannot use our funds to make any direct donations, we can offer free airtime for socially significant campaigns or highlight important themes in our contents.
Examples of campaigns supported by Yle:
Nenäpäivä (Red Nose Day)

Hyvä Joulumieli (Good Holiday Spirit)

Yhteisvastuukeräys (Common Responsibility Campaign)

Earth Hour Campaign

The target groups of the Entisten Nuorten sävellahja and Tongåvan programmes
Collaboration with production companies
All of our television, radio and online services are funded by the Yle tax. Our activities have significant direct and indirect impacts on the activities of the Finnish creative sector. 
Our collaboration with domestic production companies constitutes a significant part of Yle's public service duty. We purchase completed TV and radio programmes and produce content together with production companies. We also finance and co-develop new programmes and programming formats. Our programme acquisitions and the sharing of our expertise bolster the continuity of the creative sector and support the job prospects of young creators.
We only work with partners who will commit to Yle's principles of social responsibility. We select our partners in a non-discriminatory and equal basis. 
We are developing a responsibility model for the AV sector in collaboration with our partners in the media industry. This model will be introduced in 2021. 
Read more: Yle's content partners in 2020
Collaboration with commercial media
In accordance with the policies presented by the parliamentary working group, we have continued to assess possible forms of collaboration with commercial media. In 2020, we continued our well-established collaborations and initiated several collaborative experiments with commercial media companies.
Responsible use of technology
Yle uses its technologies and the data it collects in a responsible and ethical manner. 
People in Finland have a vast and global range of different media contents and online services that they can access through their smartphones and other portable devices.
The COVID-19 pandemic boosted the deployment and development of digital services and new technologies worldwide. Remote and decentralised productions became increasingly common among the actors in the media technology sector, and the use of remote work solutions expanded rapidly.
The changes in Yle's operating environment and the challenges arising from technological changes represent both risks and opportunities. We have responded in many ways to the changes that have occurred in the population's media use habits. For example, we are:
developing Yle Areena online streaming platform and renewing the yle.fi service. The reform of Yle's digital services and linear radio and TV channels will continue to support the strengths of both platforms.

utilising data and artificial intelligence in the development of our contents and services, in accordance with the principles of public service. Our use of data and technology stresses transparency. Our goal is to improve the personalised services we provide.

expanding the range of high-definition TV channel broadcasts to cover the entire Finnish terrestrial network

developing new types of narrative and publishing methods that utilise tools based on data and artificial intelligence, such as gamified forms of news narration and automated contents produced by the Voitto robot. 

continuing our experiments with new technologies, such as 5G-based transmissions, robotics, augmented reality (AR) and virtual reality (VR), in collaboration with leading industry actors. 
The ethical risks associated with the use of technology are assessed as part of our risk management process. For this purpose, we will develop an ethical risk model as part of our technological development work. This risk model will be introduced in 2021.
A responsible employer
We will continue to develop the diversity, atmosphere, equality, parity and well-being of our workplace.  

We want to foster good leadership, personnel experience, and a well-functioning work community. 

We will ensure that the skills and competence of our personnel and the capabilities of our organisation can meet the needs of an ever-changing operating environment. 
We measure the success of our personnel targets with a personnel survey that includes an enthusiasm index and recommendation index. Our goal is to ensure that the enthusiasm index increases by 0.08 units annually. In 2020, the recommendation index increased from the previous year. Similarly, when compared to 2019, the level of employee satisfaction improved in early 2020, but declined by the end of the year while still remaining above the 2019 level.
Read more: Key figures for Yle personnel