31.8. Guest Performance: Silent Film Festival in Forssa
Kalle Kuusava, conductor
Eero Leväluoma, director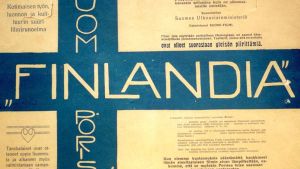 The documentary movie Finlandia (1922) was the grand silent film project of the Suomi-Filmi company under the leadership of Erkki Karu, as commissioned by the Foreign Ministry for the fifth anniversary of Finnish independence. It was widely and successfully distributed abroad, and it may still be the most shown Finnish movie outside of Finland. This landmark of Finnish cinema has not been seen in its original form since the 1920s, but many of its scenes have been shown independently.
The soundtrack created for the film, which has been digitally reconstructed and restored by the National Audiovisual Institute, represents the most famous themes from the short history of Finnish classical music at the time and folk songs arranged in the spirit of national romanticism. The composers include, for example, Erkki Melartin with Menuetti and Prinsessa Ruusunen (Sleeping Beauty), Toivo Kuula with Elegy, Pirunpolska (Devil's Dance) and Häämarssi (Wedding March), Heikki Klemetti with Menuetti, Heino Kaski with Nocturno, Oskar Merikanto with Valse lente, Suomalainen polska and Merellä (At Sea), Armas Järnefelt with Berceuse, and Jean Sibelius with Pelléas et Mélisande and, of course, Finlandia.
Originally compiled for the movie by Max Hauswald in 1922, the music has been arranged by Yrjö Hjelt, Jari Eskola ja Heikki Elo, and will be played by the Finnish Radio Symphony Orchestra, conducted by Kalle Kuusava.
Details of the event
Forssa Sport Hall Feeniks