15.9. Chamber Music Concert 1 - Intimate Poesy
Leena Jaakkola, artistic planning and violin
Taija Angervo, violin
Jakob Dingstad, viola
Tomas Nuñez, cello
Juho Pohjonen, piano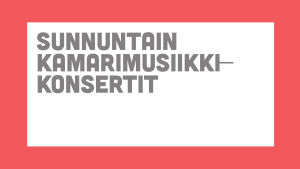 Tone poems in the season's first chamber recital
The FRSO musicians have fun choosing the repertoire for the Sunday chamber matinées. The programmes are freshly innovative and almost always include music you have probably never heard before. The first recital this season has been devised by violinist Leena Jaakkola and features intimate tone poems by Liszt and Korngold.
Details of the event
Tickets: 5-11,50 €
Season tickets for the whole season 2019/2020 and autumn season 2019 will be on sale from 29 April to 3 August 2019 at Ticketmaster. Single tickets for the autumn season will be on sale from 14 August 2019.