8.12. Chamber Music Concert 3 - A Trio in Time
Ezra Woo, artistic planning and viola
Kyeong Ham, oboe
Giuseppe Gentile, clarinet
Mikko Ivars, cello
Jouko Laivuori, piano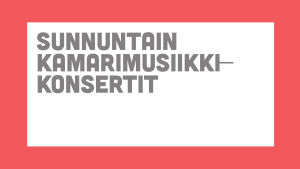 A trio recital curated by FRSO violist Ezra Woo
This recital of trios curated by FRSO violist Ezra Woo travels in time from Bach to Robert Kahn. The programme includes Mozart's Kegelstatt Trio reputed to have spread the word about an instrument, the clarinet, little known at the time.
Details of the event
Tickets: 5-11,50 €
Season tickets for the whole season 2019/2020 and autumn season 2019 will be on sale from 29 April to 3 August 2019 at Ticketmaster. Single tickets for the autumn season will be on sale from 14 August 2019.