Anja Bihlmaier & Senja Rummukainen & Otto Antikainen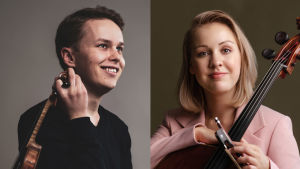 Concertos for several soloists were popular in the Baroque and even the Classical era, but virtually died out thereafter. Brahms himself regarded his double concerto as a "prank" and an "idiocy".
Richard Strauss's s tone poem Don Juan takes a more charitable look at the character than is usually the case. Bernd Alois Zimmermann, in his "black ballet" Musique pour les soupers du Roi Ubu, takes the idea of a collage based on quotations to extremes, being made up of nothing else.